A Look Back
2000s: From Recession To Sustainability
---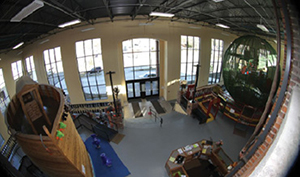 The industry got some well-deserved recognition when the Museum of Clean opened in 2011. The brainchild of industry veteran Don Aslett, the facility showcases the past, present and future of cleaning.
The horrific events of Sept. 11, 2001 defined a decade and a generation of Americans. It plunged the country's shaky economy into a recession, sent military reservists off to war, and heightened security at airports, stadiums and other high-profile facilities.
However, distributors persevered as sales still grew during this tumultuous time. Unfortunately, when the economy faltered again years later, distributors would not be so lucky.
The "Great Recession" technically lasted from late 2007 to mid-2009, but distributors still felt its affect for years after. Customers cut budgets, reduced cleaning frequencies, sought less expensive products and repaired rather than replaced equipment. Sales plummeted industry-wide, forcing many distributors to freeze wages and eliminate jobs. Loans became scarce and some suppliers even closed their doors for good.
"I don't think our industry is recession proof at all. In times like these all industries are affected and adversely so," said Bridget Shuel-Walker, president and CEO of HP Products, Indianapolis, in a 2008 article.
Just as warehouse clubs in the '90s tried to steal customers and sales from jan/san distributors, big box retailers — such as Janitation Depot, HD Supply and AmazonSupply — presented the same threat throughout the 2000s. To offset alleged cheaper prices, distributors focused on their value like never before.
Labeled as a fad by many in the industry, green cleaning would catch fire in the new millennium and become a permanent fixture.
Debuting in 2000, the U.S. Green Building Council's LEED certification program helped legitimize the push for environmentally friendly products. Class-A facilities were differentiating themselves with LEED for Existing Buildings, and green cleaning was an inexpensive way to earn needed credits. By 2008, green cleaning would be a mandatory requirement, solidifying the industry's place in the movement.
Further helping the green cause, Vermont passed legislation in 2004 requiring state buildings to purchase green cleaning products; New York followed a year later with a bill mandating schools to use environmentally friendly products. To date, at least a dozen states have passed green cleaning legislation.
The use of green products evolved into sustainable practices. Distributors looked inward and recycled pallets, installed energy-efficient lighting in warehouses, built LEED-certified facilities and implemented other measures as a way to promote themselves as environmental experts.
"If I'm going to the customer about going green, I should be able to say this is what we as a company have done," says Teresa Farmer, sustainability consultant for Kelsan, Knoxville, Tenn., in a 2012 article.
Cleaning for health, another '90s cleaning philosophy, would also garner mass attention in the 2000s — this time with a focus on cross-contamination. Thanks to the national media, SARS, bird flu, MRSA, C. diff, Norovirus and other superbugs and viruses became household names. Perhaps most notable was the 2009 swine flu pandemic that sickened more than a million people and killed nearly 500 Americans.
Always a tight-knit industry, associations and technology continued to bring its players closer together. During the 2000s both IEHA and BSCAI partnered with ISSA; in addition, ISSA allowed end users to become members in 2005, after allowing them on the show floor for a few years. Social media, while still evolving, changed how distributors promote themselves, learn trends and connect with their customers and colleagues.
previous page of this article:
1990s: The Janitorial Supply Industry Gets Smaller And Faster
Disclaimer: Please note that Facebook comments are posted through Facebook and cannot be approved, edited or declined by CleanLink.com. The opinions expressed in Facebook comments do not necessarily reflect those of CleanLink.com or its staff. To find out more about Facebook commenting please read the Conversation Guidelines.