A Look Back
1990s: The Janitorial Supply Industry Gets Smaller And Faster
---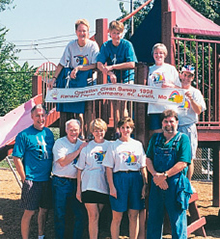 The cleaning industry has always given back to those in need. The best example may be when NJSSA's "Operation Clean Sweep" became a national community-based program starting in 1995. Pictured here are volunteers from Renard Paper in St. Louis in 1998.
As the '80s came to an end, the public became increasingly concerned over the AIDS virus. Its spread, along with other diseases, helped revitalize the industry's focus on sanitation with the buzz phrase "cleaning for health." Distributors added anti-bacterial soaps and touch-free towel dispensers to their lines.
"The public awareness level today is greater than it was just a few years ago.
Everyone's worried about catching some kind of disease," said Kerry Riggs, then vice president, Lawrence Sanitary Co., Inc., Richmond, Va., in a 1991 article.
Cleaning for health also encompassed protecting the air that building occupants breathed. Indoor air quality (IAQ) had been on building executives' radars since 1976 when 29 American Legion members died from bacteria living in a hotel air conditioning unit (aka Legionnaire's disease), but it would have renewed focus in the 1990s with 30 percent of buildings causing tenants nausea, headaches and fatigue while working indoors. The cleaning industry would rethink chemical volatile organic compounds, vacuum filtration and odor control.
Along with public health, there was growing concern over the environment. President Bill Clinton issued Executive Order 13101 in 1992, which defined green cleaning products and directed more than 100,000 federal government buildings to start using them.
As a result, distributors began introducing zinc-free floor finishes, paper made with recycled content, citrus-based chemicals and other green products, but they proved to be a tough sell. Often they had higher price tags than traditional products because they were more expensive to produce. In addition, end users were concerned that green products didn't perform as well. Education and demonstrations were key to getting customers to understand the benefits.
Just as public awareness changed the products of the decade, mergers and acquisitions changed the players. Perhaps most notable was paper distributor Unisource Worldwide purchasing the largest sanitary supplier, Cincinnati-based National Sanitary Supply Co., in 1997. This followed Unisource's two-year, 50-plus company buying spree. In an ironic twist, Unisource would be acquired by Georgia-Pacific by the end of the decade.
Adding to the M&A frenzy was the creation of AmSan by private equity firm GTCR, also in 1997. The new company would live up to its goal of becoming a national player by acquiring more than 30 distributors during the next three years.
Even though it took years for distributors to embrace computers, companies in the '90s seriously had to look into new technology to stay ahead of the competition and survive. Distributors weighed the cost and learning curve of launching a website against the sales and marketing advantages the Internet could bring. Manufacturers adopted bar codes, helping distributors pick orders faster and more accurately.
In addition, laptops, cell phones, e-mail and voicemail all led to a fast pace of communication the industry had never seen before.
"In the past, it was acceptable to return a phone call the day after you got the message. Not anymore. People expect to hear back from you within an hour or two," said Ken Crutcher, then president of Kenway Distributors, Louisville, Ky., in a 1999 article.
But for every advantage technology offered, there was a concern. The Internet opened the door for e-commerce, but mega-online distribution sites such as JanCentral.com and
MaintenanceMall.com popped up threatening to wipe out the traditional distributor. However, by 2000, many of these virtual suppliers would go under.
previous page of this article:
1980s: Jan/San's Computer Age
next page of this article:
2000s: From Recession To Sustainability
Disclaimer: Please note that Facebook comments are posted through Facebook and cannot be approved, edited or declined by CleanLink.com. The opinions expressed in Facebook comments do not necessarily reflect those of CleanLink.com or its staff. To find out more about Facebook commenting please read the Conversation Guidelines.