A Look Back
1960s: Contract Cleaning Comes Of Age
---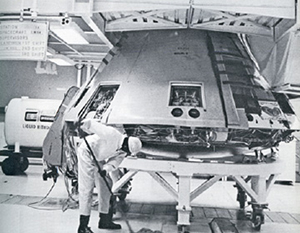 In the '60s, even the cleaning industry was caught up in the space race. At this NASA facility, one speck of dust could mean the difference between a successful space mission and a catastrophe.
Known as the "Soaring Sixties," the decade found the country with its head in the stars, fascinated by space exploration — it even had distributors wondering if the future meant new products to clean in space. But more down to Earth, the 1960s were a time of growth and competition.
The continuing increase of new construction meant more users of sanitary supplies — and more sales. For jan/san suppliers, no account was too small. From bowling alleys to churches to swimming pools, distributors sold to everyone.
With more buildings to be cleaned, a new player in the industry emerged: the building service contractor. While in existence before the 1960s, BSCs really came of age in this decade; distributors had to learn how to handle this new entity.
For most distributors, contract cleaners were a threat because they bought products directly from manufacturers.
"When a customer contracts out his maintenance work, then that customer stops buying his sanitary supplies," said Sidney Solomonson Jr., then president of Dixie Corp., Dallas, in a 1961 article.
As the decade progressed, so did distributors' approach toward BSCs. Distributors learned how to use their strengths to sell to contractors' weaknesses. BSCs paid higher prices for products by buying direct and had to find a place to store their supplies.
Other distributors subscribed to the old adage: "If you can't beat them, join them," and launched their own contract cleaning division.
"There is a definite need for a building maintenance organization which is the reason why we organized our own," said Stanley Klien, then president of Porter's Supply Co., Baltimore, in a 1962 article. "Many of our customers had a definite need for such a service, and they were only too pleased to turn over their contract cleaning requirements to us when they learned we had started such an activity."
Regardless of who was cleaning the building, specs and techniques were changing. Synthetic fibers made carpeting more affordable. What was once found only in hotel lobbies, expensive dining rooms and other luxurious places, soon was installed in supermarkets, funeral homes, swimming pool areas and practically everywhere else. In those facilities still with hard flooring, new floor buffing techniques helped prolong the life of finish.
While cleaning became more sophisticated, unfortunately, public perception did not. During the 1960s, cleaning for sanitation started to take a backseat to cleaning for appearances. In addition, increased competition led to price wars and the industry's race to zero began.
"It is too bad so many building people make custodial synonymous with mops, buckets, soaps and brooms. Most building management is shocked when we tell them the investment we will make in new equipment to maintain their building. They are flabbergasted when we tell them the number of hours spent training personnel," said John Bailey, then president of Kent Building Services, a BSC based in Kansas City, Mo., in a 1966 article.
The cleaning industry was clearly changing, but not just in the United States. Distributors and manufacturers from around the world were contributing to its evolution. As an indication of this, in 1967, NSSA changed its name to the International Sanitary Supply Association (ISSA).
previous page of this article:
1950s: The Janitorial Supply Industry Takes Off
next page of this article:
1970s: Environmentalism and Legislation Affect The Cleaning Industry
Disclaimer: Please note that Facebook comments are posted through Facebook and cannot be approved, edited or declined by CleanLink.com. The opinions expressed in Facebook comments do not necessarily reflect those of CleanLink.com or its staff. To find out more about Facebook commenting please read the Conversation Guidelines.