A Look Back
1950s: The Janitorial Supply Industry Takes Off
---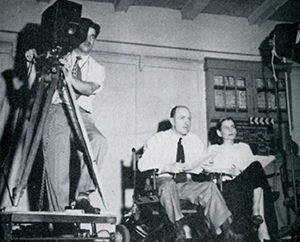 NSSA filmed the color movie "Maintenance of Soft Floors" to give distributors visual aids to help the selling process. SM featured an article on its development.
With conflict developing in Korea and the Cold War with the Soviet Union, the concerns of product shortages remained as the industry moved into the '50s.
However, even though restrictions were placed on steel, copper, aluminum and other commodities, production of these materials were far greater than in the 1940s. As a result, the United States didn't plunge into a wartime economy and raw materials were able to supply both the war effort and civilian life.
Despite the ample supply, the memories of World War II were still fresh for many distributors and fears of product shortages permeated, causing many companies to hoard inventory, creating supply shortages. But a continuous steady product supply from manufacturers smoothed even this bump in the road.
The 1950s were formative years for the jan/san distributor, laying the foundation for many of the services distributors are known for today. Salespeople learned to "sell" products and not just be order takers for bug killers, disinfectants and soap. Sales reps demonstrated products to end users and helped them identify the right supplies for individual situations. And there was plenty to teach: new innovations such as vinyl tile and non-slip floor wax were introduced.
"The salesmen who are trained to know what their products will do, who can understand and solve their customers' problems will make more than ever," said Searcy Ridge, then president of the Gateway Chemical Co., Kansas City, Mo., in a 1953 article. "The peddler type will make less."
Distributors not only had to teach custodians, but had to learn how to train and motivate their new breed of sales representative. Sales meetings, contests and incentives became part of the repertoire.
Technology, too, helped sophisticate the selling process. NSSA produced color and sound 16 mm films, such as "Maintenance of Soft Floors" and the hospital training film "Easy Does It," which distributors could purchase or rent for showings. Tape recorders were new ways to test and hear back sales pitches.
In the 1950s, NSSA became the fastest growing association in America as membership grew from 696 to 1,169 members during the decade. The sanitary supply industry was attractive for entrepreneurs because it didn't require a lot of capital to start a company. There were also plenty of opportunities for sales.
Nearly every year construction began on new offices, hospitals and hotels, which also led to older buildings being renovated to attract and keep tenants. Most of all, the Baby Boom led to a school building boom, which would be a lucrative market for years to come as the wave of students moved from grammar school to high school to college. By 1960, there would be an estimated 40 million children attending the nation's schools.
"Education institutions account for about 20 percent of our business and they can be the firm foundation of any salesman's income," said Jess Levitt, then salesman for I. Edward Brown Inc., New York, in a 1955 article. "Schools need help the most…they really need the planning a good supply salesman can give them."
The 1950s were a prosperous decade for jan/san distributors. There was a need for cleaning and money was allocated for it, especially for automated tools and equipment that helped janitors clean faster.
previous page of this article:
1940s: Cleaning During And After World War II
next page of this article:
1960s: Contract Cleaning Comes Of Age
Disclaimer: Please note that Facebook comments are posted through Facebook and cannot be approved, edited or declined by CleanLink.com. The opinions expressed in Facebook comments do not necessarily reflect those of CleanLink.com or its staff. To find out more about Facebook commenting please read the Conversation Guidelines.