A Look Back
1980s: Jan/San's Computer Age
---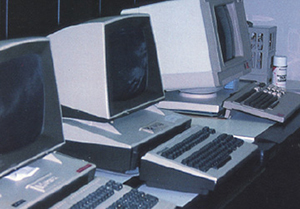 Computers were finally used by the majority of distributors in the '80s.
The 1970s came to an end with double-digit inflation rates, which continued into the 1980s. The first half of the decade was marred by recession. Distributors learned first-hand that the industry's myth of being recession-proof wasn't entirely accurate.
With interest rates skyrocketing, cash flow was key. Having money tied up in dead stock in the warehouse or late paying customers hurt even more than usual.
To ease their burden, distributors leaned on new supply chain partners just recently introduced the decade prior: the wholesaler and master distributor. These companies allowed distributors to carry less inventory and buy the few specialty items only needed by a handful of customers.
"We believe master distributors have an opportunity to establish themselves in the current economy as a major force in the distribution of sanitary supplies. They fill a void which has long been needed," stated a 1981 SM staff editorial.
The high inflation rates during the decade caused the price of products to soar in order to cover rising costs of raw materials. Building managers looked for ways to have more efficient cleaning programs to cut the increasing cost of labor and supplies.
One innovation to do just that during this decade was the advent of ultra high-speed floor machines or burnishers. This equipment and corresponding floor finishes and pads gave floors the coveted, high-end "wet look" in less time. Other ways to cut costs in the '80s included interim carpet maintenance so soft floors always had a visually clean appearance.
It was during the 1980s that computers finally were considered affordable and, therefore, accepted by the majority of the cleaning industry. Even ISSA purchased a computer in 1981. With computer programming, distributors were able to pinpoint profit areas by better managing inventory, monitoring credit collections and analyzing sales.
"The computer, under certain restraints, is the key to exciting growth in our industry. It enables management to do things and receive information rapidly that in the past had to be laboriously dug out," said Justin Manvitz, then president, Omaha Compound Co., Omaha, Neb., in a 1985 article.
Just as the financial problems carried over from the '70s, so did the legislation issues. In 1983, OSHA introduced its Hazard Communication Standard that required manufacturers to label hazardous chemicals and supply Material Safety Data Sheets (MSDSs). By 1987 distributors, too, had to supply customers with corresponding MSDSs — and keep abreast of changes to the documents.
"Active measures are necessary to inform employees of the dangers they face. The worker's right to know of these potential dangers is considered an integral part of an individual's right to intelligently choose which dangers to face," wrote Bill Balek, ISSA's then staff attorney in a 1986 article.
Initially, many distributors balked at the "Right to Know" requirements and resulting excessive paperwork because they'd been dealing with these products for years without incidence. But if they didn't comply, consequences came in the form of costly fines.
Distributors selling chemicals in the '80s also had to stay current with new U.S. Department of Transportation regulations covering the safe transport of hazardous materials.
previous page of this article:
1970s: Environmentalism and Legislation Affect The Cleaning Industry
next page of this article:
1990s: The Janitorial Supply Industry Gets Smaller And Faster
Disclaimer: Please note that Facebook comments are posted through Facebook and cannot be approved, edited or declined by CleanLink.com. The opinions expressed in Facebook comments do not necessarily reflect those of CleanLink.com or its staff. To find out more about Facebook commenting please read the Conversation Guidelines.