Through Thick And Thin
SMI Facility Services Still Strong After 25 Years
---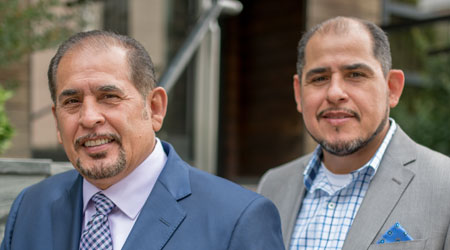 When Steve Garcia was 9 years old, he just wanted to spend time with his brother, Val Garcia, 14 years his senior. Steve would go over to see Val, and Val, already the entrepreneur, would put Steve to work in his auto mechanic shop.

"I used to go over there and I used to help him overhaul motors and pull transmissions," says Steve. "And I was just a kid, but we'd spend all day and all night working on the vehicles. … I was always there learning and trying to be by his side."

A little more than a decade later, when the time came for Val to open a building service contracting business, the same sibling dynamic carried forward, and Steve jumped on board.

Fast forward to today, and the Brothers Garcia are still going strong. They're now business partners, celebrating 25 years of the contract cleaning company started by Val, now known as SMI Facility Services, based in Albuquerque, New Mexico.

Those 25 years in business haven't been only smooth sailing for Val, president, and Steve, vice president and general manager. Their story is one of ups and downs, help from colleagues, and belt-tightening — but, ultimately, success.

The Garcias know all about hard work. Their father, Valentin Garcia Sr., made sure of that.

When Val was a teenager, Valentin Sr. would use four weeks of vacation time he had saved up, take the family up to Fargo, North Dakota, and work the sugar beet fields. Steve was born on one of those beet trips.

"My dad always taught us to work hard," says Val. "We never expected a handout."

When not working in the beet fields of North Dakota, Valentin Sr. worked as a pastor and a part-time janitor, raising his family in Lubbock and then Hillsboro, Texas. The family would move when Valentin Sr. took a new pastorship, but wherever they went, Valentin Sr. would look for a custodial job with either the local school system or at the church.

"He just loved being a custodian," says Val.

Then in 1970, right around when Steve was born, the family settled down in Albuquerque, and Valentin Sr. took a job leading the janitorial staff at a large Methodist church.

In their childhood, the boys, first Val and then Steve some 14 years later, would get out of school, head over to the high school or church at which Valentin Sr. worked, and help out for a couple of hours.

"We were brought up knowing how to run a buffer," says Val.
next page of this article:
Val And Steve Garcia Have A Love For The Cleaning Industry
---