Through Thick And Thin
Val And Steve Garcia Have A Love For The Cleaning Industry
---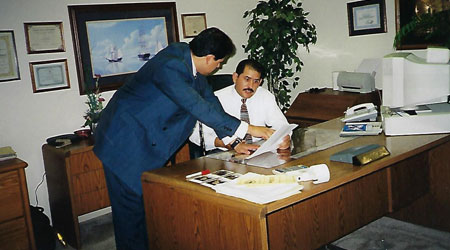 Despite the early exposure to the cleaning industry, neither Garcia boy ever expected to one day follow their father into the cleaning industry.

"It wasn't that we didn't like the work," says Val. "We just never thought it would be a business that we'd get into."

Yet neither brother seemed to be able to stay away for long. Val owned his own painting and remodeling business for a few years before selling it off and going to work for a BSC based in Albuquerque at the time. In 1989, he tagged along to his first Building Service Contractors Association International (BSCAI) Annual Convention.

"That's when I fell in love with the industry," says Val.

Within a few years, though, Val's employer had relocated the contract cleaning business to Phoenix and was pressuring Val to come along. Instead, Val decided to break out on his own, founding Supreme Maintenance Incorporated in 1992.

Steve was working for a security agency at the time, but a few months after getting SMI off the ground, Val asked his little brother to join the company. Val had never steered Steve wrong before, so Steve hopped on as an operations manager, shadowing Val and learning the business side of the industry. With complete confidence in each other and their business acumen — plus the 14-year age difference — Steve was groomed right from the start to one day take over for Val.

"You always want to do something on your own, but Val always made an environment where I didn't need to do that," says Steve. "If he was going to be successful, he was going to make me successful. … He's never given me any reason to doubt that."

It didn't take long for SMI to grow beyond the point where Val could clean everything. By the time Steve joined, the company already had around 10 employees.

"Our five-year goal was to do a million in revenue," says Val. "We did that in our first two years."

The brothers quickly realized they had to reconfigure their goals, looking to do $2 million in revenue, then $3 million. They hired business development people and operations managers as the business continued to grow.
previous page of this article:
SMI Facility Services Still Strong After 25 Years
next page of this article:
Network Services Company Gave SMI Its Big Break
---