Through Thick And Thin
Garcia Brothers Remain Loyal To Customers
---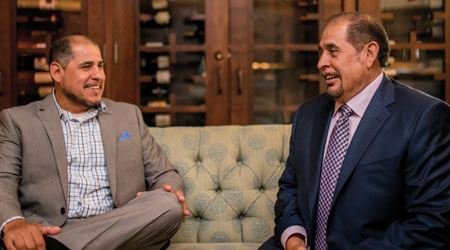 After their unique deal with NSC, Val and Steve rode that wave of success all the way into the new millennium. They even began offering more than just cleaning services.

One of SMI's cleaning accounts lost a facility manager, so the customer asked Val and Steve if SMI could perform that function as well. They decided there was no reason why SMI couldn't, and suddenly their company was more than a BSC. SMI then began offering landscaping and maintenance services, and eventually it became time to change the name to better reflect its
offerings. SMI Facility Services was born.

Business kept humming along until 2008 when SMI, like so many other BSCs, fell on hard times, losing about two-thirds of its business.

"When you're doing work for companies that need to cut, the first thing they cut is the janitorial staff," says Val. "So a lot of the companies either cancelled their contracts with us and decided to do it themselves, or some of them, which were our larger contracts, went from five days a week service to two days a week service."

Some of those contracts that shrunk or disappeared constituted an enormous portion of SMI's portfolio. As a result, the company cut its offices staff from 18 people down to nine. Val and Steve were even forced to lay off some family members who had been working for SMI.

Val and Steve acted fast, however, quickly cutting costs by shrinking their labor costs. They both took salary cuts, got rid of company vehicles and borrowed a lot of money. They even got rid of the office water cooler — anything to try and stay open.

But, perhaps most importantly, Val and Steve never burned any bridges with those customers who dropped their service down to one or two days a week.
"A lot of those companies, they needed to cut," says Val. "A lot of people would have said, 'Well, you know what? We're not going to do it anymore. Two days a week? Nah, we're not going to do it.' Well, we did, and we helped them out, because they needed help. We were all going through the same thing. So in return, when things started getting better and they were able to increase the service again, they stuck with us."

Before the recession, SMI was beginning to expand outside of New Mexico. Those plans were pulled back and put on hold in part because of the economic struggles. But today, SMI is once again preparing to open offices and expand services to Texas, Arizona and Colorado.

Through it all, Val and Steve were always in agreement on how to handle those tough decisions, even as the day-to-day operation has transferred over to Steve in recent years.

"When Steve and Val say they're going to do something, they do it," says Kruse. "You can trust them to take it personally."

For the brothers, it comes back to the lessons learned from their father, the pastor.

"We think a lot alike," says Val. "We still have our differences, being that he's younger than I am. We don't always agree with everything. But as far as the core of our business and how we operate our business and our views about how we treat our employees and how we treat our customers and all of that, we're inseparable. We learned, being children of a pastor, to be ethical and treat people with respect."

Twenty-five years later, that formula is still working.

Nick Bullock is an associate editor of Contracting Profits.
previous page of this article:
Network Services Company Gave SMI Its Big Break
Disclaimer: Please note that Facebook comments are posted through Facebook and cannot be approved, edited or declined by CleanLink.com. The opinions expressed in Facebook comments do not necessarily reflect those of CleanLink.com or its staff. To find out more about Facebook commenting please read the Conversation Guidelines.