Through Thick And Thin
Network Services Company Gave SMI Its Big Break
---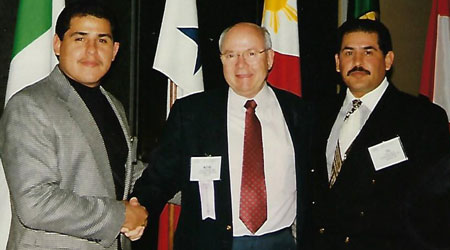 SMI Facility Services' big break came in 1994. SMI already had a sizable contract with the major phone company in New Mexico, cleaning about half of the phone company's facilities in the state. Then one day the phone company decided to put its entire 14-state region up for bid, and large national contractors swooped in to grab the whole pie. The winning bid belonged to Network Services Company (NSC), a co-venture by industry heavyweights Arlo Luke and Wayne Simmonds.

Val and Steve immediately worried this was the end for SMI. But their fears were misplaced. The brothers, already heavily involved in BSCAI, knew Simmonds and Luke quite well.

"They came into town and they actually offered us the other half of the state," says Val. "Instead of taking the half of it from us that we thought we were going to lose, they actually offered us the other half."

For SMI, which had only been around a couple years, that was a big account to take on — too big.

"I remember having a conversation with Wayne Simmonds, and I said, 'Wayne, we'd love to take the work, but I really don't have the money for payroll for three months' — because it was going to take 90 days before we saw any money — 'and the investment of the equipment and payroll for 90 days, I just don't have the money to be able to support that,'" says Val.

As Val recalls, Simmonds said, "Don't you worry about it," pulled out his checkbook, wrote out a personal check for $16,000 and told Val he could pay him back whenever he was able.

"That was something that was unheard of," says Val.

So SMI took on the contract.

"And when we received our first check, we were able to pay not only our expenses but pay Wayne Simmonds back. … That was a turning point I think for us," says Val.

The deal was structured as a partnership, in which SMI acted as the local arm of NSC, performing all of NSC's work for the phone company in the entire state of New Mexico. It's a type of deal SMI has since struck with other national BSCs, several of which the brothers have met through their involvement with BSCAI. Steve has even served two terms on the BSCAI board.

"These guys know their market, and they know it well," says Tom Kruse, senior vice president of mergers and acquisitions and strategic support for St. Paul, Minnesota-based Marsden Holding, LLC, which has reached similar arrangements with SMI. "They have a really great reputation for providing services, being able to do it and not overcommitting to stuff that they can't do."

The way Val and Steve describe it, the national BSCs don't want to set up an
entire operation — with all of its associated costs — in New Mexico, yet some of the national BSCs' contracts necessitate that they clean certain existing facilities in the state. So SMI steps in, does the work and keeps the national BSCs from opening up shop on SMI's home turf.

"It's a win-win," says Steve.

In order for it to work best, however, those relationships must already be formed and a certain level of trust must be established, as was the case between the Garcia brothers and Simmonds and Luke.

"Quite frankly, these are maybe pieces of a much bigger puzzle," says Kruse. "Just because it's maybe a smaller town that doesn't warrant us going in and investing a huge amount in infrastructure to do it ourselves, it can be a piece of something that really is a bigger contract for us. And so if we have a problem in something that those guys are doing, it could affect a much bigger contract."
previous page of this article:
Val And Steve Garcia Have A Love For The Cleaning Industry
next page of this article:
Garcia Brothers Remain Loyal To Customers
Disclaimer: Please note that Facebook comments are posted through Facebook and cannot be approved, edited or declined by CleanLink.com. The opinions expressed in Facebook comments do not necessarily reflect those of CleanLink.com or its staff. To find out more about Facebook commenting please read the Conversation Guidelines.