Cleaning: Floor Care
Cleaning: Floor Care
---
Questions To Ask Before Cleaning Floors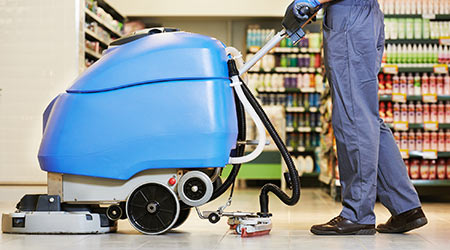 The challenge for cleaning staffs is knowing what type floor they are dealing with and using the correct processes and procedures to maintain the floor in question. Most of us have made expensive mistakes on marble (using acids) or wood (too much water) or VAT (dry buffing) but still struggle with how to safely and effectively maintain floors today. There is no one size fits all approach even though there can be some general guidelines to reduce the chance of error.

VCT, VAT, LVT, linoleum, wood, cork, rubber and most synthetic floors are considered "resilient floors" which means they "give" under the weight or high stress when compared to natural stones, ceramic, concrete, terrazzo and other non-resilient surfaces. Following are few suggestions to consider before proceeding:
What type floor is it? Resilient or non-resilient? Man-made or natural stone?
Is it sensitive to acids or alkalis as well as water and what is the best pH for maintenance?
How old is it? This can help determine how to proceed.
If new, are there any manufacturer's/installers guidance on maintenance?
What, if anything, is on the floor now? Water based floor finish? Urethane? Just plain old dirt?
Does it have grout lines that need to be maintained and sealed?
What is the safest and most effective way of either restoring an old floor and then maintaining it?
What kind of foot traffic is it exposed to? Is there sufficient matting to protect the floor? How often is it swept/dust mopped/vacuumed/damp mopped?
Your comments and feedback are always appreciated. I hope to hear from you soon. Until then, keep it clean...

Mickey Crowe has been involved in the industry for over 35 years. He is a trainer, speaker and consultant. You can reach Mickey at 678-314-2171 or CTCG50@comcast.net.
TIPS SELECTED FOR YOU
---