Cleaning: CP
Cleaning: HS
Cleaning: SM
Cleaning: Cleaners & Disinfectants
Cleaning: Odor Control
---
Servicing A Park Restroom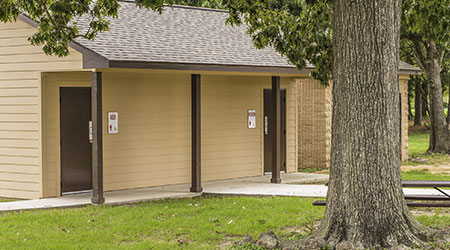 A reader asked about how I would estimate and service some small restrooms in a national park. Neither unit had running water and strict guidance on environmental issues:

1. Estimated time to service each facility will be impacted by traffic count (which should be available from the customer), type road and weather.
a. Travel time from company office to first unit = ________ minutes
b. Time to service first unit = 15-30 minutes
c. Travel time to next unit = _________ minutes
d. Time to service second unit = 15-30 minutes
e. Travel time to return to company office = _________ minutes

2. Math for estimate is 52 (or number of times per year) x _______ minutes divided by 60 = _______ hours per year.

3. It is important to verify number of times per year service is to be provided since the area may or may not be in use during severe winter months.

4. Suggest following for vehicle, equipment and supplies:
a. Carry your own water and solution by using 5 gallon buddy jugs or similar containers.
b. Have a vehicle (van or truck) with an electrical outlet for operating an electric pressure washer, wet vacuum cleaner and leaf blower
c. Use a Hudson (bug) sprayer for spraying walls and floor with enzyme type cleaner. One company has a combo enzyme/cleaner that may be all that is needed.
d. Close one unit at a time for servicing if possible so other can be used.
e. Pull paper or cover paper dispenser to protect from moisture
f. Protect toilet and urinals with cover to reduce chance of getting moisture in collection tanks
g. Sweep floors (or blow) to remove as much soil and debris as possible before getting surfaces wet.
h. Spray surfaces of walls and around toilets using caution NOT to get moisture in toilets or urinals.
i. Work from bottom to top applying cleaner and top to bottom rinsing cleaner.
j. Use deck brush if needed to clean grime from floors
k. Dry wipe or squeegee surfaces to remove excess water and solution.
l. If necessary, use a wet vacuum cleaner system to pick up excess moisture
m. Use a spray bottle and microfiber cloth to wipe down the key touch points such as toilet seats and other flat surfaces
n. Restock paper supplies, soap, etc.
o. Pull trash liner(s) and police area around toilets

5. Be sure to use only environmentally acceptable products noting that a disinfectant can be friendly but must be able to kill pathogens to be effective.

I highly recommend the company conduct onsite visits using a stop watch to determine suggested travel times listed above in the estimate.

Your comments and questions are important. I hope to hear from you soon. Until then, keep it clean…

Mickey Crowe has been involved in the industry for over 35 years. He is a trainer, speaker and consultant. You can reach Mickey at 678-314-2171 or CTCG50@comcast.net.
TIPS SELECTED FOR YOU
---