Bringing In A Bit Of Color
The Benefits Of Microfiber In Cleaning Programs
---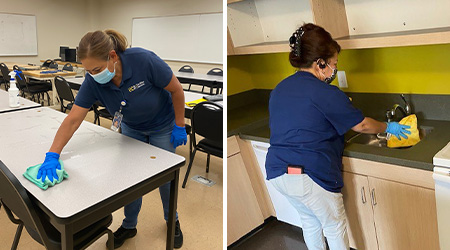 The benefits of a comprehensive color-coded microfiber program have been well documented over the years. What we experienced at UC Riverside was on par with those benefits other departments have experienced.
For example, our color-coded program has helped eliminate accidental cross-contamination. It became much easier f or us to separate the towels that were being used in high-risk areas to prevent cross-contamination. Cleaning with the same color can increase the chances of unintentionally transferring germs and bacteria from one area to another.
The program also streamlined and standardized our training efforts. This has given us the confidence that all staff are using the same color in the corresponding task or area.
Finally, we've experienced better inventory control, we use fewer chemicals and we've seen cost savings. At the start of the program, we implemented an inventory control system where we issued a specific number of towels to each custodian. Old towels that need to be replaced have to be turned in to their supervisor before they can be exchanged. This method has given us a better way to track expenses. In our housing areas, we also switched to using a dilution control system for our washing machines that automatically dispenses the correct amount of detergent for cleaning micorfiber as opposed to measuring by hand.
The implementation of the color-coding microfiber program has given our custodial staff an easier way to clean and eliminate confusion on what tool to use when cleaning specific areas. It has also given our campus a sense of comfort when they see a custodian using one colored towel to clean a restroom and another color to clean an office.
"We have received several compliments from residents and staff after they have seen the different colored towels on our carts," says Ryan Lazzar, housekeeping manager. "It gives our employees the chance to shine and explain our program."
We have definitely upped our infection control game and have given the campus community a sense of comfort that we are doing everything we can to mitigate the spread of bacteria and viruses at UC Riverside.
Aaron Uresti is the Assistant Director of Custodial & Housekeeping Services, Facilities Services at University of California, Riverside. He has managed custodial operations at the University of California for the past 15 years. While at UC Irvine, his department won two Green Cleaning Awards: Best New Program in 2013 and an Honorable Mention in 2015 for innovative recycling practices. Aaron is a CIMS ISSA Certification Expert, holds a LEED Green Associate credential and serves on the Healthy Green Schools & Colleges Steering Committee.
previous page of this article:
Steps To Introducing A Color-Coding Program