Bringing In A Bit Of Color
Steps To Introducing A Color-Coding Program
---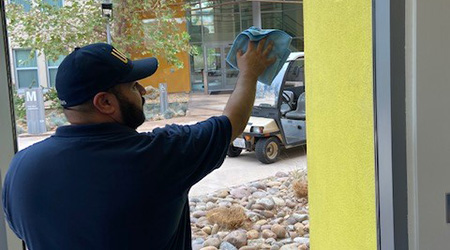 Getting to where we are today didn't happen overnight. Before we implemented the color-coded program, we took a number of steps to ensure that we got off to a smooth start.
For example, our management team collaborated to determine which colors to assign to each area or task. We created an easy-to-follow color-coded chart for custodians to hang in their closets as a reminder of what each color represents.
Red indicated high risk. These cloths would be exclusively used to clean sanitary areas in restrooms, such as toilets and urinals.
Yellow meant medium risk. Also for use in restrooms, these cloths are used on surfaces such as sinks, showers, counters, dispensers and fixtures.
Green tools indicate low risk and are used outside the restroom. They are the tool used for dusting and polishing in areas such as lounges, offices, workspaces and on ledges.
Finally, blue microfiber is used in medium-risk areas outside the restroom. These are normally high-touchpoints such as door handles, elevator buttons and railings, or impression points such as windows, glass doors and mirrors.
Once we paired the proper tool to the appropriate job at hand, we had to look at logistics. We provided each custodian with two sets of towels along with a laundry bag. Once a cloth was used, it was placed in the bag for laundering and the staff always had a clean set ready to use. We also separated the red towels to help avoid contamination between it and the other colors.
Getting this program up and running didn't happen overnight. With support from our supply vendor, we held a series of training sessions to introduce our custodial staff to the new processes. We also wanted to make sure that they understood the reason for the change — to prevent the spread of germs and bacteria and create consistency within our department. Finally, we wanted to allow them the opportunity to ask questions and have their concerns addressed.
previous page of this article:
Color-coding Microfiber Improves Processes
next page of this article:
The Benefits Of Microfiber In Cleaning Programs