2016 Managers of Distinction
Jess Baidwan: Champion For Change
---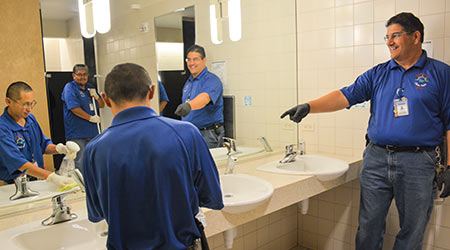 Jess Baidwan, Custodial Services Supervisor
Southern Ute Indian Tribe, Ignacio, Colorado

Jess Baidwan is the custodial services supervisor for the Southern Ute Indian Tribe, one of approximately six Ute tribes in Southwest Colorado. While the reservation prides itself on preserving traditions and the culture of Ute Indians, Baidwan has made a name for himself by breaking with convention.

"Our goal has been to move away from the traditional role of cleaning toward a green standard, and for the most part, we've accomplished this," he says. "We want to have healthy buildings, because if we have healthy buildings then hopefully, by extension, we have healthy building occupants."

The campus spans about 600,000 sq. ft. and houses a plethora of facilities, including a preschool and an academy; dental, optical, and medical clinics; a health and recreation center; and administrative buildings. Some of the cleaning technologies Baidwan has adopted include oxygenated water for floor equipment, vital oxide sprayers for disinfecting clinical environments, and a biological cleaning product that eliminates odors rather than masking them.

In 2015, the administrative building was recognized as Green Clean Institute's (GCI) first gold-certified building on an Indian reservation. According to Baidwan, tribal council was so pleased with this achievement that it set the goal to have two additional buildings certified over the next two years.


In addition to prioritizing green initiatives, Baidwan champions his custodians' personal growth and encourages them to develop their full potential whenever feasible.

"Baidwan is very supportive and hands-on," notes Damon Tung, a custodian. "He's not afraid to get his hands dirty and show us how to do things. He's open to new ideas, and he's always asking his team for suggestions. He also supports our personal decisions, even if it means leaving the department."

To ensure that custodians are highly skilled and well positioned for future growth, Baidwan has every team member certified as GCI and Cleaning Management Institute technicians.

Baidwan also implemented the 100 Club to motivate his team and reward them for their hard work.

"If a building gets a 100-point score during the evaluation process, the custodian is awarded a prize," he explains. "Last year the prize was a winter jacket embroidered with the team logo, and they wear it with pride. They take ownership in their building, they take pride in the work that they do, and they take pride in themselves."

Although the campus still outsources some of its buildings to a contract cleaner, Baidwan's best practices and processes have allowed the tribe to move more of its cleaning operations in-house, resulting in savings of almost $105,000 per year.


Under Baidwan's direction, the custodial department is reaping the rewards of its labor and receiving accolades from other staff members, as well as the public.

"My crew has done an amazing job embracing these changes," notes Baidwan. "We're reaping the benefits not only for ourselves as a crew, but our buildings are in great shape. We get, on average, close to 30 emails a month from building occupants saying thank you for doing such a good job."

KASSANDRA KANIA is a freelance writer based in Charlotte, North Carolina.
All images supplied by Trennie Collins at the Southern Ute Drum.
previous page of this article:
Lisa Ferrell: Maid To Mentor
---