2016 Managers of Distinction
Harry Proulx: Pride On His Side
---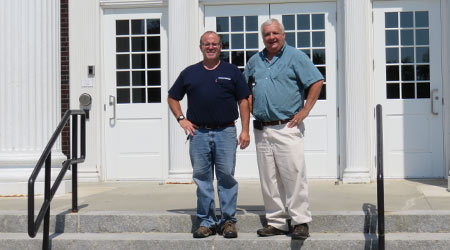 Harry Proulx, Facilities Supervisor
Rochester School Department, New Hampshire

Richard Bickford, director of facilities, doesn't mince words when describing the state of Rochester School Department's buildings before Harry Proulx came on board.

"The schools were filthy," he says. "The custodial staff was doing things their own way, using chemicals however they felt like using them. There was no structure whatsoever, and we had a rough crew, to put it mildly."

Proulx, facilities supervisor, was working in the maintenance department at the time, but his prior experience as a custodian made him an excellent candidate to get the custodial department back on track.


"I'm not a cleaner, and I didn't know that business, but I knew we needed some help," notes Bickford. "Harry stood out as a person who saw what I saw, and he knew what needed to happen. Between the two of us, we were able to put together the structure to get the job done."

Proulx evaluated the custodians, their work and the equipment they were using, and hired an outside firm to perform a cleaning audit of all 11 buildings.

"I saw a lot of things that were slipping by. . .that people weren't paying attention to," Proulx admits. "So I created a priority list of what needed to be done and how we could do it."

At the top of the list was the need to improve communications between administration and the custodial staff. Proulx set to work ensuring that everyone was computer literate and outfitted with the right technology. Custodians now have the ability to contact each other for assistance, when needed.

"If one custodian is struggling, he can get in touch with another custodian in another building and ask for help," says Proulx. "They don't feel like they're alone anymore."

Proulx also ensured that every custodian is trained to use the same procedures across the board. In addition, he implemented a work order management system so that the head custodians can submit real-time work tickets to the maintenance department if something is broken or needs immediate attention.


In the three-and-a-half years since the department's overhaul, the school district's cleanliness rating has improved from a level 4 to a level 2, on a scale of 1 to 5 (with 5 being the dirtiest). Not only are the schools cleaner, but the custodians are happier, and morale is at an all-time high.

"The custodians feel good about their buildings and themselves, and they're getting the respect they deserve from the staff in those buildings," says Proulx.

Bickford concurs: "Every head custodian is in charge of their building; before they thought they just worked there," he says. "Harry showed them they need to treat that building like it's their own home, so they have ownership in everything that works well and everything that needs fixing."

Today, when Bickford describes the state of Rochester NH School Department's buildings, his words have a much more positive impact: "We've been in a lot of schools around the state, and we can say we're the cleanest school that Rochester has."
previous page of this article:
Cleaning Executives Recognized For Management Excellence
next page of this article:
Van Le: Epitome Of Perseverance
Disclaimer: Please note that Facebook comments are posted through Facebook and cannot be approved, edited or declined by CleanLink.com. The opinions expressed in Facebook comments do not necessarily reflect those of CleanLink.com or its staff. To find out more about Facebook commenting please read the Conversation Guidelines.