Keeping Tabs
Cleaning Survey Analyzes Management, Budget, Staffing Priorities
---
BY James DeGraff, Associate Editor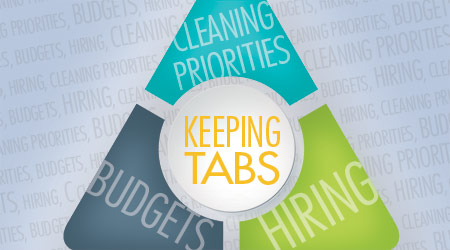 For many facility cleaning managers, thriving as a department can be difficult — even in a normal year — between balancing budgets, retaining reliable employees and maintaining reasonable workloads. So in a year where any conventional template has gone up in smoke, gaining insight on the current state of the industry is more crucial than ever — hence the goal of the "2020 Facility Cleaning Decisions Management Survey."
In the current climate, improving hygiene was deemed the most important cleaning priority at a 40 percent clip (up more than double the percentage points from last year's total). This emphasis is of little surprise, as facilities choosing to reopen are keenly aware that a single COVID-19 outbreak can topple a foundation that currently feels like a house of cards. Along the same wavelength, common touchpoints — including door handles, elevator buttons and coffee pots — jumped up the ranks as the biggest cleaning challenge for 16 percent of departments (up 7 percentage points year-over-year) behind the obvious frontrunner, restrooms at 51 percent.
Despite the hand they were dealt, 27 percent of departments are forced to work around static budgets — a figure that has seen an 8-percentage point increase over the past year. Still, over two-thirds of respondents were protected from budget cuts in that same span. For those left facing cuts, only 23 percent were willing to reduce cleaning frequencies as an adjustment strategy, down from 32 percent in 2019.
While the most common adjustment to budget restrictions is the postponement of large product/equipment purchases at 52 percent, it also received the biggest individual drop year-over-year within the category. Down 12 percentage points, there is a clear reluctance to compromise on technology that can boost operational efficiencies as cleaning demands rise across the industry.
On the staffing side, 38 percent of departments plan to add to departments in the next 12 months, citing increased workload (57 percent) and additional square footage/facility expansion (38 percent) as the driving factors. The increase in square footage — which was the largest year-over-year jump of the entire survey — can be directly tied to many facilities needing to abide by new COVID-19 distancing guidelines, while still accommodating all of their employees.
The bulk of 2020 has been unlike any year before it, forcing facility cleaning managers to constantly pivot. The following findings shine a light on some of their greatest challenges, while forecasting how said challenges could be conquered in the months to come.
The survey is broken out into several categories. Links to each are available here:
To compare this 2020 survey with results from previous years, click here.
next page of this article:
Cleaning Executives Address Management Decisions