Cleaning: Business & Industry
---
Where Supplies Fall Into Bidding Estimates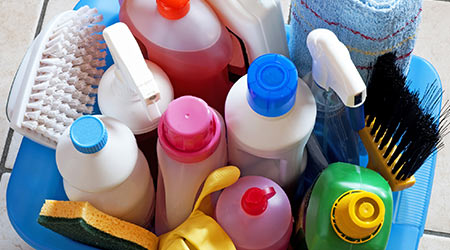 I responded in an earlier article to a writer asking about an "ideal, one size fits all" estimator and expressed that in my opinion, none probably existed although there are some very good products on the market. I do not endorse specific products so am offering some basic guidelines that I hope will be of assistance in your arriving at a realistic bid.

I like to divide supplies into two distinct categories: Consumable and Expendable. I define consumable supplies as anything "consumed" by the customer. This may include toilet tissue, paper towels, hand soap, sanitary napkins and covers, trash can liners and any other products necessary to fulfill the specifications. It should be noted that there are different costs to consumable supplies. These costs include cost of the product, delivery costs and installation costs. Delivery and installation costs should be factored into the selection of a product. An example is the difference between a 500 sheet double ply roll of toilet tissue compared to a jumbo roll of single ply. Although the jumbo roll may be more expensive per unit, it usually has a far lower per sheet cost. Also, the costs for replacing the rolls (direct labor) can have a significant impact on the time necessary to service a rest room when multiplied by many stalls.

I define expendable supplies as the products used in servicing the contract. These may include glass and all-purpose cleaner, disinfects, carpet spotter, polishes, stripper, floor finish and other products used in the day to day maintenance of the facility. In most cases, it is wise to use a dispensing system (packets, powders or dispensing units) to keep total costs lower. There is a continuing debate as to the use of RTU (ready to use) disinfectants over products mixed on the spot. Check closely with your distributor as to the shelf life (think efficacy) of any diluted disinfectant before keeping it in use more than twenty-four hours after mixing with tap water.

Although you can eventually develop percentages for consumable and expendable supplies in relation to a given contract, beware of published ratios that may not take into account the various factors related to that number. Some customers may provide their own supplies which can throw off such percentages rather quickly. There is still DLH involved in installing the products.

Your comments and feedback are always appreciated. I hope to hear from you soon. Until then, keep it clean...

Mickey Crowe has been involved in the industry for over 35 years. He is a trainer, speaker and consultant. You can reach Mickey at 678-314-2171 or CTCG50@comcast.net.
TIPS SELECTED FOR YOU
---