Cleaning: Brooms, Mops & Carts
Cleaning: Infection Control
---
Selecting Protective Gear For Disaster Cleanup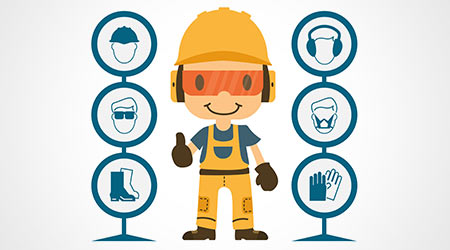 When it comes to selecting protective gear, usually your first step is to identify the hazards that you may face, and then choose clothing that can help protect you from those dangers. However, this first step is substantially simplified when cleaning up after a major storm. You must select gear that can protect you from just about any hazard.

In many storm cleanup situations, wearing a helmet* is mandatory. Helmets are rarely worn in professional cleaning, but cleaning up after a storm has unique challenges and dangers. Besides falling objects hitting your head, you may slip and fall, bump your head against a fixed object, or expose yourself to an electrical wire.

Goggles are also essential, and the type of goggle to select is very important. Nonvented goggles will protect your eyes from splashes. A contaminated splash in your eye can result in serious illness. Antifog goggles will help keep your vision clear and make it less likely you will need to remove the goggles to clean them, which can put you at risk.

Similarly, we must wear gloves, but not any glove will do. Look for gloves that offer cut, slash and liquid (chemical) protection. Also make sure they are water resistant.

As to the actual body clothing to wear, select waterproof and chemical-resistant protective gear. This will help reduce the risk of exposure to harmful bacteria or chemicals that are often found in floodwater. Protective body gear is traditionally based on the type of risk you might encounter.

However, after a hurricane, we must be prepared to encounter any kind of hazard.

Finally, we must wear appropriate foot protection. In some cases, rubber boots will suffice. After very serious storm events, however, foot gear that can protect you from electricity, metal objects, chemicals, falling objects, punctures, and sharp objects, as well as wet or slippery surfaces, may be necessary. Protective shoes, as well as most protective clothing, should meet standards set by the American National Standards Institute (ANSI). This certification will undoubtedly be noted on the product label and related product materials.

* There are different types of helmets. In most cases, a class G (general) or a class E (electrical) helmet will suffice.

Ron Segura is president of Segura Associates. His company works with organizations to help them streamline their cleaning and building operations as well as promote sustainability and healthier cleaning strategies so that facilities function more effectively and efficiently and realize cost savings. He can be reached through his company website at http://www.seguraassociates.com.
TIPS SELECTED FOR YOU
---