Cleaning: Floor Care Equipment
Cleaning: Floor Care Equipment
---
Maintaining Various Floor Surfaces In One Facility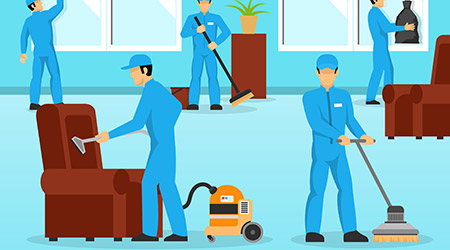 A reader writes: "We are taking on a new school building with five different floor surfaces. How do you suggest we proceed?"

Upon closer inspection, it appears that you actually have eight different types of floor surfaces when you take into account how they are constructed and have to be maintained. Since the building is new and the floors are all new, you will find that expectations will be high for maintaining them to the current appearance level in spite of high traffic, weather and other factors. For instance, a low woven carpet is installed in one of the side entrances which is going to require a lot of effort to maintain during the winter with water, ice, salts, sand and other contaminants being tracked in on a daily basis.

Another challenge will be the low luster floors that were not designed for floor finish or buffing; yet the school wants them to have a "shine". This requirement overcomes any potential maintenance savings due to its low maintenance features. They could have installed VCT (vinyl composite tile) for a lot less money and had the same requirement.

Your first order of business should be to request the manufacturer's instructions for each and every floor surface. Read them thoroughly and abide by the guidance to minimize the risk of your voiding any warranties. For example, bonnet buffing the carpeted areas will void the warranty and make you liable for repairing or replacing this surface. Note that you may need to have a three or four season schedule for the carpet since extraction will be necessary to pull out soils and moisture during the winter and heavy dry vacuuming will be required during the spring and fall with all the sand and grit being tracked in.

When possible, try to educate the school system on the challenges you are facing and get them to work with you on finding the best processes throughout the year.

Your comments and questions are important. I hope to hear from you soon. Until then, keep it clean...

Mickey Crowe has been involved in the industry for over 35 years. He is a trainer, speaker and consultant. You can reach Mickey at 678-314-2171 or CTCG50@comcast.net.
TIPS SELECTED FOR YOU
---