Cleaning: Floor Care Chemicals
Cleaning: Floor Care Equipment
---
Key Aspects Of Stripping Floors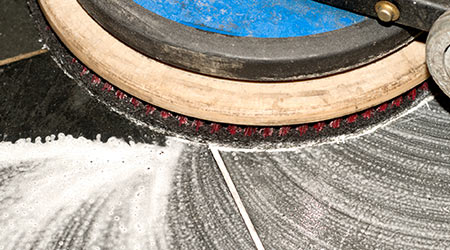 A reader writes: "I get confused about what are the elements of stripping a floor. Could you give me a quick definition?"

Due to the brevity of these articles, I will try to touch on the key aspects (or as you said elements) of stripping a hard floor. Stripping can be defined as the complete removal of any finish (wax/seal) on a hard surface. By hard floor we mean a natural or manmade surface that requires protection or luster to satisfy either the manufacturer or the end user. Note that not all hard floors should have finish (or wax) applied to them. Also, it should be noted that different hard floors require different finishes due to their unique characteristics. An example is ceramic tile which by its design does not accept traditional finishes since it has its own low luster and is not porous.

"Stripping" a hard floor assumes that a finish (seal or wax) has been applied and needs to be removed due to age, damage or other reasons. The difference between stripping and scrubbing is usually determined by the products and processes used on the surface. Stripping requires the use of a high pH stripper (think pH of 9.5 – 13) that is designed to emulsify the finish which is then removed while still in a slurry state. It is important to mix the stripper solution with water and apply it in a relatively small area (suggest 10' x 10') at first to determine if the solution is strong enough to do the job. It may require more than one stripping to remove heavy build ups of finish. Select a black (3M model) pad mated to a 175-250 RPM floor machine or use an auto-scrub, if available, for large areas.

Know what type of floor you are working and read all label directions carefully before proceeding. Use your distributor for training or guidance if this is your first time. We will continue these thoughts in a future article.

Your comments and feedback are always appreciated. I hope to hear from you soon. Until then, keep it clean...

Mickey Crowe has been involved in the industry for over 35 years. He is a trainer, speaker and consultant. You can reach Mickey at 678-314-2171 or CTCG50@comcast.net.
TIPS SELECTED FOR YOU
---