Cleaning: Floor Care Equipment
Cleaning: Floor Pads & Brushes
---
Advice For Maintaining Rubber Floors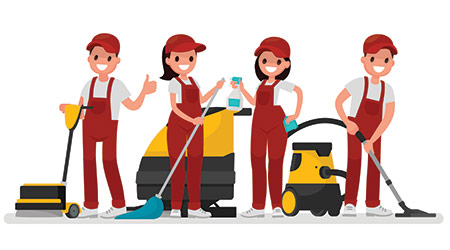 A reader writes: "We just remodeled our building and installed a decorative rubber floor in the entrance that is already starting to deteriorate. Any suggestions would be appreciated."

Based on a brief inspection we noted some serious installation defects that need to be corrected by the installer so that the floor has a better chance of lasting. Defects include mastic/glue seepage that could have been cleaned up with isopropyl alcohol while it was fresh but now the flooring itself may be damaged due to trying to remove them. DO NOT use any abrasives on this type floor. Be careful of smearing the glue seepage with a buffing pad. We also noted that the floor itself is uneven which means there are a considerable number of high spots and depressions that will be difficult to clean with a regular floor machine pad. You might test out a buffing/scrubbing brush equivalent to the recommended red pad to see if it will help in the cleaning process. Finally, we noted that there are hundreds of seams due to the decorative patterns. Each of these can be a potential leak due to their separating under normal floor maintenance.

You need to read the manufacturer's recommendations carefully to avoid any warranty claims. If they recommend a particular product by name, either use it or get written permission to use an equivalent. Although most floor mopping neutral products may work, you need to be careful about what you use so long as there is a warranty in place. Also closely document the use of their recommended pads and processes.

Another serious consideration is a comprehensive floor care program with frequent dust/damp mopping of the entrances and other high traffic areas. This should include a well maintained matting system that can capture a lot of the abrasive grit that is damaging the floor surface. Although the specifications call for waiting a year before applying any of their recommended finish, you may need to accelerate the process for the high traffic areas after consulting with the manufacturer.

Proceed with caution and document your actions in consultation with manufacturer.

Your comments and questions are important. I hope to hear from you soon. Until then, keep it clean...

Mickey Crowe has been involved in the industry for over 35 years. He is a trainer, speaker and consultant. You can reach Mickey at 678-314-2171 or CTCG50@comcast.net.
TIPS SELECTED FOR YOU
---