The Cleaning Cart Evolution  
Top Benefits of Cleaning Cart Innovation  
---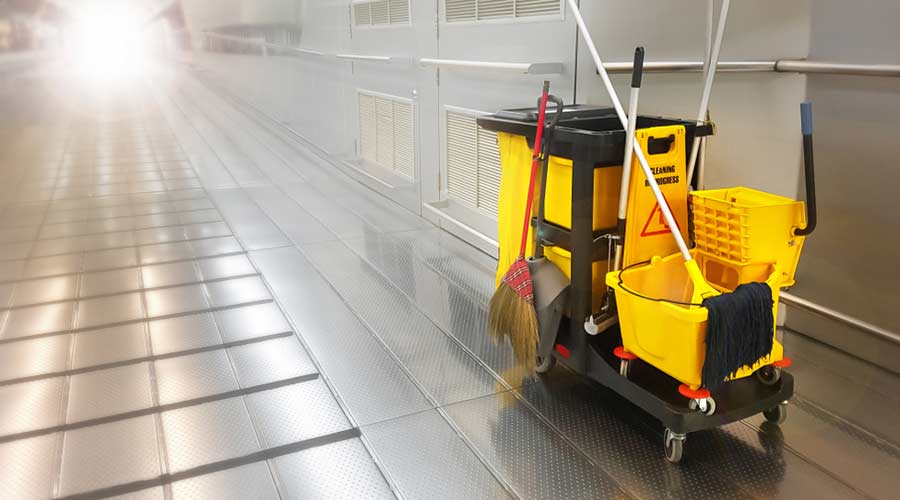 Thumbing through a product catalog from 1988, Keith Schneringer, senior director of marketing, Facility Care + Sustainability for San Diego-based WAXIE Sanitary Supply, an Envoy Solutions Company, reflects on how cleaning carts have evolved over the years — from traditional metal units with three shelves to multifunctional models designed to accommodate a plethora of tools and equipment.
"The first carts I'm aware of did not have the ability to put an upright vacuum on the back," he notes. "Now, they convey vacuums and microfiber flat mops, you can hang caution signs off them and there's a place to collect trash and recyclables."
Over the decades, carts have become mobile workstations, some of which can be configured to meet customers' growing needs. And although standard metal carts with shelves are still an industry staple, facilities now have more options for tackling a wide range of cleaning and maintenance tasks.
Phil Carrizales, director of hygiene and facilities solutions at Acme Paper & Supply Company  in Jessup, Mayland, first recognized the need for an alternative to the traditional three-shelf cart years ago, when he witnessed the cart graveyards in some of his customers' facilities.
"We service a lot of healthcare organizations, Class-A office buildings and building service contractors (BSCs), and we'd see piles of these broken carts stacked in the corner or down in the basement," he says. "Even the high-end metal ones would get dented or break, and sometimes they couldn't be repaired."
Noisy, squeaky wheels were also a cause for concern — especially in hospitals.
"If an environmental services (EVS) worker is rolling a rattling cart down the hallway while patients are trying to sleep, the hospital may get a negative customer satisfaction rating," says Carrizales. "This could affect their HCAHPS score."
These issues — together with one hospital's need for a metal-free cleaning cart in its MRI suite— prompted Acme to find a new line of carts featuring moveable walls and modules that allow customers to customize their own workstation from the ground up, expanding or changing the configuration to suit their specific application.
"Instead of a one-size-fits-all cart, the newer designs allow each individual site — whether it's a Class-A office building, an assisted living facility or a school — to customize the cart to their needs," says Carrizales.  
Sign of the Times
According to Gordy Gillette, director of marketing and inside sales for SupplyDen, Auburn Hills, Michigan, the development of modular (or convertible) janitor carts provides customers with multifunctional solutions that accommodate a wider range of tools and equipment.
"I think cart makers are trying to pivot a bit — at least the ones that are driving change," he notes. "It's a sign of the times, because people are now using these for so many different options, and they need that flexibility. Carts and tools that cater to the needs of users are the ones that stand out from the standard custodial cart."
Early changes to carts included the addition of platforms or areas designated for vacuum cleaners, mop buckets and trash receptacles, as well as hooks or injection-molded parts to secure accessories, such as mops, dusters and brooms. By accommodating heavier items on trays or shelves toward the base of the cart, the cart was better able to maintain stability.
Later developments included customizable options, allowing end user customers to add components of their choosing, including modules with baskets, supply towers or trash compartments, to name a few. Furthermore, platform extensions allowed additional tools and equipment to be added at a later time.  
In addition to customizable carts, manufacturers have designed carts that transform into practically an entirely new piece of equipment, allowing workers to perform two parts of the same job using one device. Gillette gives the example of a two-shelf cart that converts to a platform truck with a 400-pound capacity, allowing custodians to transport cleaning supplies on the cart and then convert it to a platform truck to load and remove bags of trash.
According to distributors, the introduction of microfiber cleaning has also had a significant influence on the design and use of carts.
"Mopping has changed over the years," notes Carrizales. "Many facilities are going from a string mop to a microfiber flat mop for individual rooms, hallways and restrooms. The traditional three-shelf cart was designed to have a mop and bucket in front, but most of them haven't made the transition to accommodate a microfiber charging bucket on the front for flat mops."
As a result, many custodians are adapting their needs to fit standard carts. According to Schneringer, some may use the area traditionally reserved for a mop bucket differently, depending on how they're cleaning their floors. Others may use a top shelf to house their charging buckets.
Eric Cadell, vice president of Dutch Hollow Supplies, Belleville, Illinois, states that users are learning how to adapt traditional janitor carts to meet today's cleaning needs.
"Instead of putting a traditional 26- or 35-quart mop bucket and wringer in the front area, frontline workers are replacing it with a charging bucket," he says. "A lot of users are also placing a larger trash can where the mop bucket was and moving the charging bucket to the top shelf. It's not so much that carts have evolved, but we've evolved in how we're using them."
Nevertheless, some manufacturers have designed carts specifically with this evolution in mind. For example, one option for microfiber mopping systems features shelves designed to hold microfiber charging buckets as well as buckets for soiled microfiber mop heads. Another design features an on-demand dispensing system that charges individual microfiber mop heads as needed, allowing custodians to prep them on-the-go.
The addition of removable drawers and caddies has also made it safer and more convenient for custodians to organize and transport cleaning supplies. With the prevalence of sanitizing and disinfecting practices post-COVID-19, for example, Gillette notes that these add-ons have practical applications for end users tasked with frequent disinfection of high-touch surfaces.
next page of this article:
Innovative Cart Designs Keep Cleaning Chemicals Safe