West Texas Takeover
Stanley Mayfield Follows Father's Path Into Jan/san Distribution
---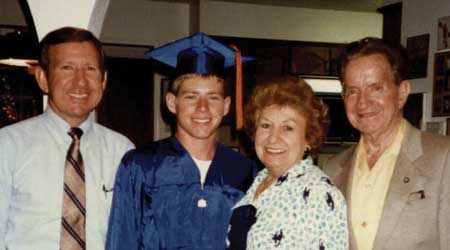 John Christian Mayfield, the family patriarch, got his start in the paper business while attending the Texas State Teachers College in San Marcos, Texas. The job put him through college.

Then, after serving as a pilot instructor in the Army Air Corps, he started his own paper company. At first, he would drive to Austin to buy paper grocery bags and craft paper from his previous employer, then drive back down to San Angelo to sell them.

The company also sold a lot of adding machine paper in the early days, recalls John Edward.

"Back then a manager would have anywhere from two or three to 10 secretaries," he says. "They did all the typing. … So there'd be a secretary pool outside of every manager's office, and every secretary had a typewriter and adding machine at their desk, and on the floor they had a box of adding machine paper and ribbons and paper."

Before long, John Christian began breaking into what would today be considered foodservice items.

"Of course we didn't have all the polywraps for freezing or wrapping fresh foods at all, so we were using butcher paper, freezer paper and wax paper. So those were big items," says Stanley Mayfield, the company's current owner and the son of John Christian. "And then, of course, towel and tissue was sold in every account."

In the late 1950s, the company began delving into gift wrap as well. It would buy large master rolls of coated color paper, unroll it and then reroll it into smaller sizes for resale. The company also sold sasheen ribbon and yarn to tie around the gift wrap.

"That was actually a very creative thing to do," says Stanley.

John Christian's wife, Evelyn, even organized a group of women to create gift wrap seals — handmade ornaments to be attached to the gift — that were sold in Mayfield Paper's retail store in Abilene, recalls John Edward.

Stanley's entry into the family distribution business largely mirrored his father's. After graduating from Southern Methodist University, he had a short foray into the professional world and then a five-year stint in the Air Force. By that time, his father was running things in Abilene, so, upon leaving the service in 1971, Stanley moved back to San Angelo with his wife and college sweetheart, Deanna, to run that branch and raise his young family.

Business was good and the company continued its systematic growth, adding more and more products to its various lines. In the '70s and '80s, Mayfield Paper opened several more retail stores, or "party stores," as John Edward calls them. They sold pickles, balloons, barbecue sauce, colored napkins and, of course, gift wrap.

In addition to the party stores, Mayfield expanded its jan/san and foodservice lines during this time. Office supplies sales began to take off in the '90s, as the company eventually developed a 30,000-product catalog, and sales of safety products picked up in the early 2000s.

Mayfield's diversification has been one of its keys to success, says John Severyn, manager of the company's Lubbock branch.

"We don't really have any seasonal business here," he says. "We're, to be honest with you, busy all the time. I've not had a bad month in the three-and-a-half years I've been here. Compared to a true jan/san house, with our foodservice segment, it just seems to pull us through in the months when the schools aren't going or whatever."
previous page of this article:
Mayfield Paper Company Grows Through Product Diversification
next page of this article:
John Edward Mayfield Marks Third Generation Of Family Business
Disclaimer: Please note that Facebook comments are posted through Facebook and cannot be approved, edited or declined by CleanLink.com. The opinions expressed in Facebook comments do not necessarily reflect those of CleanLink.com or its staff. To find out more about Facebook commenting please read the Conversation Guidelines.