West Texas Takeover
Mayfield Paper Company Grows Through Product Diversification
---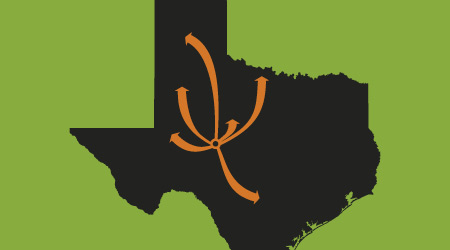 The Mayfield family, proprietors of Mayfield Paper Company, based in San Angelo, Texas, has something of a family motto: "If you're not growing, you're shrinking."

The company's family leadership says it a lot, and it's easy to see how it has resonated down to Mayfield branches across West Texas, from San Angelo up to Abilene, west to Odessa and north to Lubbock, back down south to San Antonio then all the way up to Amarillo in the Panhandle, and, finally, most recently, over to Wichita Falls.

For the Mayfields, growth isn't just geographical either. As the company name suggests, Mayfield started out with founder John Christian Mayfield selling paper packaging products. Through the years the company has diversified and added other product categories, with paper packaging, jan/san supplies, foodservice disposables and office supplies now accounting for most of the business.

Some of the expansion has been more organic — a customer opens a new location and so Mayfield expands along with the customer. Other expansion has been more strategic — when a distributor already sells toilet tissue and floor cleaner to the local hotel, post office, courthouse and school in a town of 3,000 people, the only way to grow is to start selling foam cups and hinge trays to the three restaurants in town, says John Edward Mayfield, currently the branch manager for Mayfield's Wichita Falls location and the grandson of the company's founder.

"It's a lot of miles between customers," he says. "So you constantly have to deliver more products to those customers."
A lot of miles indeed. Mayfield's reach spans a little over 900 square miles. There are some 500 miles of highway connecting Amarillo, the company's northernmost branch, to San Antonio, its southernmost branch.

None of this is meant to say Mayfield services only small towns these days. Texas is growing. The state gained 432,957 new residents from July 1, 2015, to July 1, 2016 — more than any other state, according to the U.S. Census Bureau. That amounts to about 1,186 new people per day.

And they're not just moving to the Dallas-Forth Worth metroplex, Houston or Austin. Lubbock has ballooned to more than 250,000 residents. Amarillo has nearly 200,000. Even San Angelo, where everything started for Mayfield Paper, has grown to a population of more than 100,000. And Mayfield Paper has grown right along with it.

West Texas is oil country. It goes boom and it goes bust. But since Mayfield Paper's founding in 1945, the company has steadily, if not methodically, taken over the region — surviving during the busts and thriving during the booms.
next page of this article:
Stanley Mayfield Follows Father's Path Into Jan/san Distribution
Disclaimer: Please note that Facebook comments are posted through Facebook and cannot be approved, edited or declined by CleanLink.com. The opinions expressed in Facebook comments do not necessarily reflect those of CleanLink.com or its staff. To find out more about Facebook commenting please read the Conversation Guidelines.
---