Back From ISSA/INTERCLEAN Amsterdam
Robotic Cleaning Takes Center Stage At Industry's Largest Trade Show
---
BY Dan Weltin, Editor-In-Chief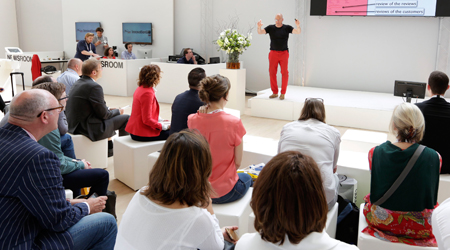 This is part one of a four-part article on ISSA/INTERCLEAN Amsterdam.

In order to truly see new trends, one must go where the action is. And for the cleaning industry, that meant a trip to ISSA/INTERCLEAN Amsterdam for four days in May.

"This week, [the show] is the epicenter of the professional cleaning and hygiene world," says Bas Dalm, director of international exhibitions for RAI Amsterdam, which, in conjunction with ISSA, puts on the world's largest cleaning trade show every other year.

The 2016 event featured a record-breaking 800-plus manufacturers — 110 more companies than the last show held two years ago. Exhibitors came from 47 countries, including first-time representatives from Japan, Sri Lanka and Jordan. And attending this expansive show were 30,289 professionals from 134 countries.

At a smaller event, when one company showcases a new technology, it can be hard to determine whether this is a passing fad or a true innovation. But because of the size of ISSA/INTERCLEAN Amsterdam, it's easier for attendees to see exactly where the industry is heading. From robotics to Internet of Things to advances in productivity, the future of cleaning was apparent.

"If I had to sum up [the show] in one word: innovation," says Dalm.

That's certainly a good way to describe the cutting-edge products filling the show's 10 halls.


Robotics
The most predominant technological advancement on display was robotics. Distributors who've attended ISSA/INTERCLEAN North America are likely used to seeing this technology in limited amounts. But at ISSA/INTERCLEAN Amsterdam, there was no question that floor care equipment is moving in this direction.

"You cannot completely eliminate humans, but the future of cleaning is going to be different, with humans working alongside robots," says Nicola Flores, marketing specialist for FIMAP SpA, Verona, Italy.

Four companies continuously demonstrated their autonomous machines in the special Robot Arena and two of them were finalists for the Innovation Award, with one of them winning its category (see sidebar, page 10).

In addition, many seminars focused on "The Rise of the Robots." During one presentation, it was reported that the floor cleaning robot is the largest and fastest growing robot category, forecasted to be a $600 million industry by 2020. It is predicted that North America will make up
55 percent of this market share.

Because end users currently have a shortage of workers, experts suggest robots can be used to fill the void. The shift frees up current staff members to fulfill other, more fine-tuned cleaning tasks.

"Robots are not in competition with human beings," says Dr. Ilham Kadri, president of Sealed Air Diversey Care, Charlotte, North Carolina. "In the auto industry, the use of robots actually brought more jobs, because the industry grew."

Robots will eventually be widely accepted in the cleaning industry, because these machines can guarantee quality cleaning. Customers demand accurate and consistent performance and these machines can supply it.

"Quality cleaning is very important and it shouldn't depend on how the janitor woke up in the morning," says Gabrielle Cesari, innovation manager, Manutencoop Facility Management SpA, Bologna, Italy. "The robot will always perform. If it doesn't, an alarm will sound."

Manufacturers with robots on display anticipate more competition in the years to come. And many companies currently without autonomous equipment are assuring that this technology is currently in development and will be on display at the next Amsterdam show.
next page of this article:
Internet Of Things Products Capture Attention
Disclaimer: Please note that Facebook comments are posted through Facebook and cannot be approved, edited or declined by CleanLink.com. The opinions expressed in Facebook comments do not necessarily reflect those of CleanLink.com or its staff. To find out more about Facebook commenting please read the Conversation Guidelines.