Considering Concrete Floors
Restroom Floors That Draw Odors
---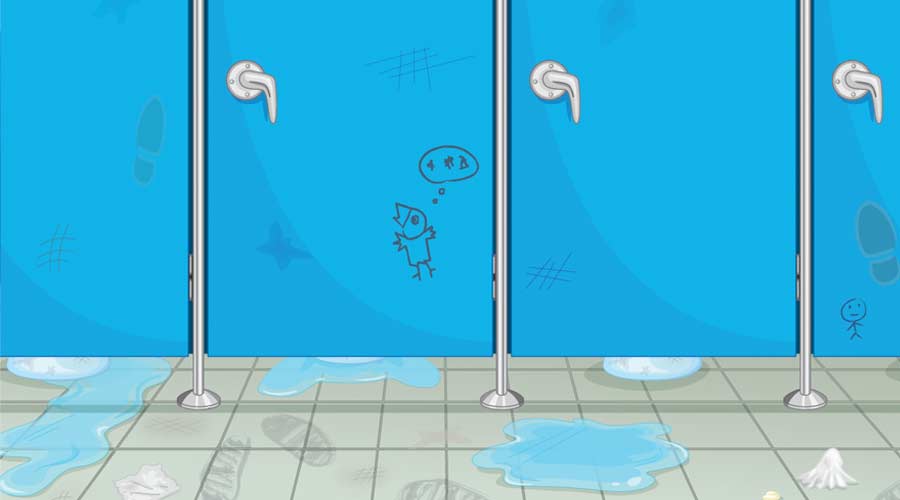 The restroom floor in any facility can be a major source of malodors, particularly urine and bacteria trapped in porous grout lines. Unfortunately, conventional mopping will not remove this pungent pair.
"End users cannot mop a floor clean," explains Adelman. "The edge of every tile will scrape dirt off the mop. That is why vertical grout lines are often white and the horizontal grout lines are dark."
A good distribution partner will educate their customers on this fact, and work with them to provide solutions to the problem. For example, some customers buy disposable urinal mats or sign up for a mat rental program to help protect tile and grout from becoming contaminated.
These products protect the floor by trapping and holding on to splashes and misses, but they aren't always replaced as often as they should be. End users must be reminded that mats should be replaced when saturated — roughly every 30 days, or sooner for high-use restrooms.
Even if used/replaced correctly, not every customer likes the look of urinal mats. For those customers, there are other tools designed to keep gout lines clean. Brushes are an option, but several machine choices are also available. Square floor machines with a quality grout pad can remove soil and restore the original color of grout. These mini autoscrubbers work by delivering fresh cleaning solution to the floor, agitate the mix, and then suck the slurry up.
"A mop gets dirty after the first pass, but an autoscrubber always injects clean water on the floor," says Moody.
For fully tiled restrooms, Johnson recommends end users occasionally deep cleaning with a spray-and-vac machine. These self-contained systems include a foam gun to inject cleaning chemicals and a pressure washer to rinse fixtures, floors, and walls.
"With this method, 75 percent of the mess goes down the drain," he adds. "The wet vacuum picks up any remaining moisture."
Results from this method can be transformative. For example, Johnson recalls comparing two large restrooms at the University of Oregon's Autzen Stadium with a client. Both spaces were "clean," but only one was serviced using a spray-and-vac machine.
"The client noticed immediately, saying they could 'feel the difference,'" Johnson recalls. This method, however, only works in restrooms that are fully tiled to the ceiling and should not be used on drywall.
Not every restroom floor is made of tile and grout. For other flooring surfaces, Johnson recommends his clients consider a flat, microfiber mop and stresses the importance of maintaining the mops as a way to keep them odor free. Microfiber needs to be washed in tepid water with no bleach and no fabric softener. It also shouldn't be washed with cotton products, which will cause the cotton will pill and stick to the microfiber.
Disposable microfiber mop heads remove potential laundry woes for end user customers and further reduce the potential of cross-contamination. Pre-loaded with cleaning solution, disposable mop heads allow frontline workers to clean a prescribed amount floor square footage with a fresh mop every time. But customers should be warned that these tools can only go so far before they become saturated.
"If users start to see streaks, it's time for a new pad," warns Johnson.
Color coding is another topic distributors should bring up with customers. This can be very useful when choosing mops and cleaning cloths for restroom service. It reduces the potential for cross-contamination.
"Color-coded mops just make sense," says Adelman. "For example, we recommend using red for restroom/body fluid areas and blue for common areas."
Although it can make an impact, color coding doesn't solve all restroom cross-contamination risks. For example, recommending a red mop and bucket for restrooms is smart. But unless workers are trained to change out mop heads and chemical solution between each space, they run the risk of transferring dirt and bacteria from one restroom to the next.
Stressing the importance of using clean tools will aid in the removal of malodors in the restroom, which will result in a more pleasant experience for facility occupants.
previous page of this article:
Recommendations for Combatting Restroom Odors
next page of this article:
Combat Less Obvious Restroom Odors