Considering Concrete Floors
Maintenance Tips for Concrete Flooring in Facilities
---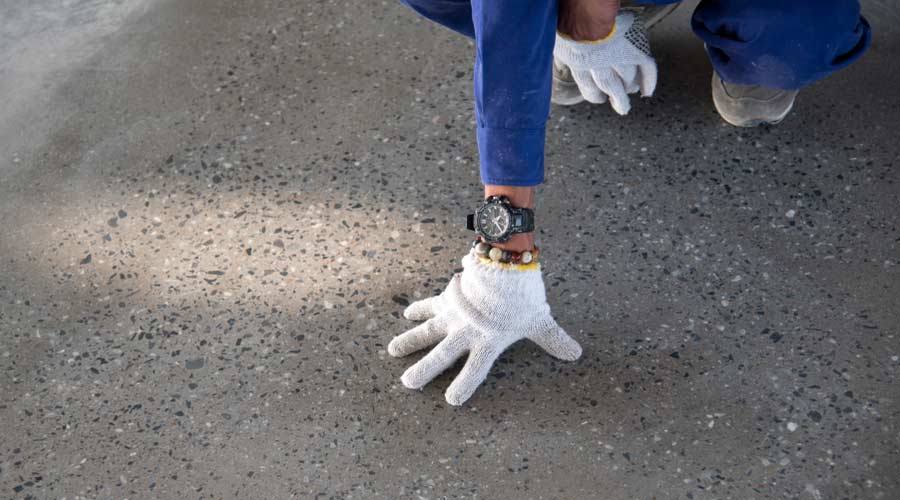 Where concrete flooring really shines — especially polished concrete — is in its relatively easy maintenance needs. Distributors should be aware, however, of how the floor is finished and what the protective coating consists of before making maintenance recommendations to customers.
"Concrete has many options when it comes to surface protection," says Hulin. "Permanent, semi-permanent, performance, and acrylic seals and finishes can all be used. Urethanes and polyurethanes are common in warehouse environments, whereas acrylic seals and finishes may be used in commercial applications. Painted, stained, and stenciled concrete are all topical and will need a protective coating or finish on top of them."
He adds that the permanent, semi-permanent and performance coatings will be easy for end users to maintain as they are very durable and last a long time. The acrylic seal finishes will have the same cleaning requirements as vinyl composition tile (VCT).
Distributors should be aware that some end users will apply a coating or finish that looks beautiful, but over time — unless the floors are properly maintained — traffic lanes will abrade through the coating finish as well as the stain.
So, what does proper maintenance for concrete floors consist of?
"People like concrete floors because the maintenance for them occurs less frequently than for other flooring types," says Caleb Ferling, owner/client relations principal, Cleanstart Commerical Cleaning, Seattle. "Maintenance on polished concrete is also very simple compared to other types of floors. Typically, VCT floors, linoleum, and luxury vinyl tiles (LVT) need to be scrubbed and waxed quarterly and receive an annual strip and wax. Concrete floors can go much longer before needing to be 'shined up.'"
Distributors who agonize over the idea that concrete uses fewer traditional products and requires less maintenance shouldn't worry. A typical maintenance program for polished concrete still requires daily cleaning or floor scrubbing using a concrete cleaner. As needed, end users should lay down a concrete guard, then burnish the floor.
Ferling adds that concrete is not as forgiving when it comes to the use of conventional cleaning products. Instead, chemicals that are specifically designed for concrete must be used.
When making product recommendations, it's important distributors know how the floor is sealed or finished, according to George Jackson, equipment solutions specialist, Advance Cleaning Equipment, Boise, Idaho. Typically, the floor is going to be sealed or finished with epoxy or polyurethane, but sometimes "there's also acid staining that has some kind of coating on top," he says.
There are a variety of product offerings for various concrete surfaces. Distributors should recommend those that are specifically designed for the type of flooring/coating in use. Once the right maintenance products are in place, emphasize training.
"It's essential that frontline workers are skilled and trained," says Jackson. "You can really mess a floor up if you're not properly educated on the maintenance."
When speaking with customers who have or are considering concrete floors, distributors should be prepared to discuss packages of products and equipment for their floor maintenance, as well as training offerings. Or, in some cases, it's better to sell the products and services in an à la carte format.
"If they have a lot of foot traffic and they are mostly concerned about shine and the look of cleanliness, you're better off selling a maintenance package and providing the products and services," Jackson notes. "But some customers just want you to spruce up their floors. That's more of an à la carte type of deal."
Ultimately, experts agree that it's important to listen to the customer. They may indicate that they want to maintain their own floors and ask to purchase a package of maintenance products.
"In this case, make the sale, but if they have no equipment and no knowledge of what they are doing, then you really need to include some kind of training," Jackson adds.
The experts agree: concrete flooring will look good and hold up incredibly well for years — but only if distributors are able to support each customer's specific needs and desired outcomes.
Shannon O'Connor is a freelance writer from Mason, Ohio.
previous page of this article:
Concrete Flooring Provides Safety, Cost Benefits