Considering Concrete Floors
Concrete Flooring Provides Safety, Cost Benefits 
---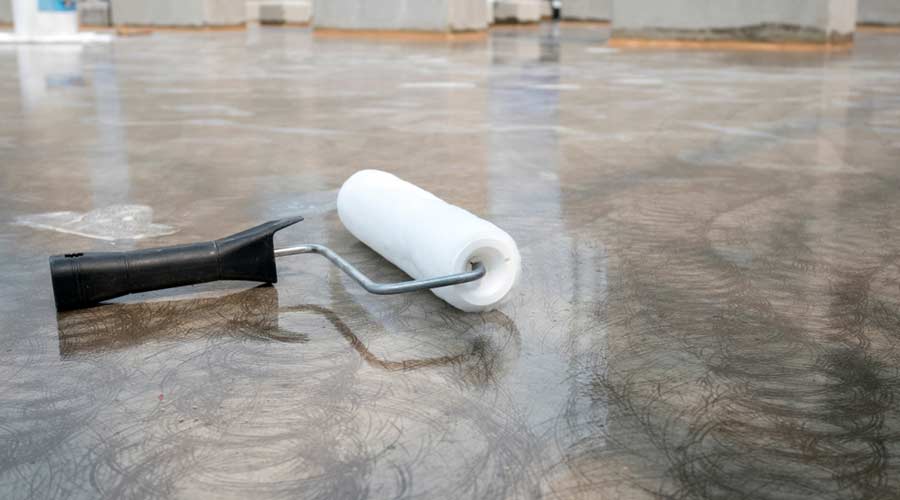 Concrete flooring offers several advantages to building owners who are considering their options — including durability, relatively low maintenance requirements, slip resistance, and resistance to water, fire, stain, bacteria, and odors. Today's concrete flooring also defies the notion that its applications are limited because it will look industrial, dull, and gray. In reality, a variety of sealants, stains, polishes, stamps, dye, and even stencils and paints can be used to "upscale" its appearance and align it aesthetically with almost any desired look or décor.
Distributors can support end-users who have or are considering installing concrete flooring by sharing their expertise on the pros and cons of the material, as well as offering cleaning and maintenance programs tailored to each installation. As a flooring choice, concrete goes through cycles of popularity and is currently trending. It is also hiding in plain sight.
"Most commercial buildings already have extensive concrete flooring, either as a substrate or an exposed surface," says Stanley Hulin, president and CEO of Future Floor Technology, Inc., Gladstone, Oregon. "The primary reason that concrete flooring is more popular today than it has been in the past is the ability to change its appearance and texture."
Allen Rathey, director of Indoor Health Council, Nampa, Idaho, agrees, adding that newer color and design options are a driving factor for end users. There are also unpolished (unsealed), polished (sealed), and epoxy- and polyurethane-coated concrete floors, some of which have additional grit added to the surface for better traction.
In the end, "concrete flooring is popular due to its lower short-term maintenance costs and long-term benefits," says Rathey.
Although this is true, there is maintenance involved if end users want floors to look clean. According to Hulin, concrete classifications include industrial, pigmented, stained, stamped, stenciled, exposed aggregate, coated/finished and polished. The primary issue to stress with end users when it comes to concrete flooring is the texture of the surface. Rough, porous surfaces without coatings or finishes can cause maintenance nightmares.
"Concrete is particularly susceptible to spots and stains, which can become extremely difficult to remove," notes Hulin. "Coated or finished concrete flooring makes it much easier to dust mop and wet mop. It also helps prevent dirt and soils from penetrating the surface."
Rathey points to slip-resistance as another key advantage. In particular, polished concrete may give the appearance that its glossy surface will be slippery when wet, but tests have shown that because of its high coefficient of friction, these floors, if kept clean, are 20-50 percent more slip-resistant than the national standard for a low-slip floor. In high-traffic locations, the use of an anti-slip conditioner or sealer with grit additive can improve slip-resistance.
Concrete floors also offer "less need for re-coating or refinishing with conventional floor finishes, an attractive uniform appearance, and simple maintenance needs consisting of dust and damp mopping or auto-scrubbing with a pH neutral cleaner," explains Rathey. "Long term, the durability of well-maintained concrete floors is legendary."
He cautions distributors to clearly communicate to clients that strong acids or high alkalinity products should not be used for routine cleaning, as they can damage the flooring surface.
Another advantage of recommending concrete to end users is that it can contribute to a facility's green goals, as it is an environmentally friendly choice. Concrete can contain recycled materials including metal shavings, marble chips, crushed glass, brick aggregate from construction or demolition waste, waste gypsum from gypsum boards, and concrete aggregate itself. Once, or if concrete floors are ever removed, the floors themselves can be recycled and used for other projects.
Other green aspects of concrete arise from what is, or isn't, installed on its surface.
"By not purchasing flooring materials to cover the concrete flooring, the cost of the materials and the maintenance of them are reduced," says Hulin. "Along with the cost of physical maintenance, the cost and disposal of the chemicals used are reduced. For most polishing — other than power polishing and crystallization — minimal chemicals other than water are used. This makes diamond polishing of concrete floors quite 'green'."
Rathey adds that through the elimination of many chemical cleaning solutions and coatings, the number of airborne VOC's (volatile organic compounds) circulating in the facility is reduced, improving the indoor air quality within the facility.
Concrete Cautions
After discussing the "pros" of concrete's versatility, durability, cost-effectiveness, environmentally friendly aspects, and ease of maintenance, distributors should also cover the "cons" of the material as a flooring choice.
"The surface is very hard on the feet and unyielding," Rathey points out. From a maintenance perspective, "when grit has been embedded in the layer of epoxy or polyurethane, or when the surface is otherwise textured, the roughened surface may cause some mop drag/wear or auto-scrubber squeegee wear."
Although there are advantages to maintaining concrete floors, the surface is not ideal for every facility. For example, commercial offices or schools with open spaces might want to reconsider concrete in favor of flooring types that muffle sound and contribute to quieter environments. It's also suggested that distributors steer customers away from using concrete in production areas that use harsh acids or chemicals, foodservice facilities, or pharmaceutical buildings where seamless floors and/or coatings for hygiene purposes are required.
In addition to location, the primary disadvantage of unfinished concrete flooring is texture and porosity. Unfinished floors can be more easily penetrated by moisture and contaminants, leading to the buildup of bacteria and making it difficult to maintain a high level of hygiene. Moisture, along with normal shifting and movement of the ground, can also lead to cracking, which can result in costly repairs.
next page of this article:
Maintenance Tips for Concrete Flooring in Facilities