Customers Come First
How A Jan/San Distributor Helps Clients Through Pandemic
---
BY Jake Meister, Associate Editor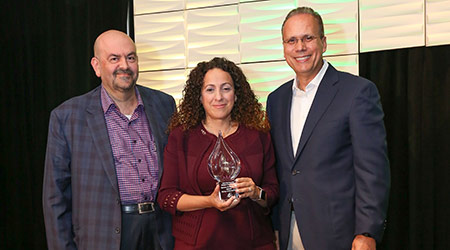 Royal Corporation has been able to maintain these vital personal connections with each of its customers despite the fact that its eclectic customer base has created a dichotomy where some clients are able to keep going through the pandemic while others are forced to hit the breaks. For example, Royal services a whopping 90 percent of the movie theater market share in the United States, in addition to sports arenas and malls. Obviously, each of those industries has been tremendously hamstrung by stay-at-home orders and other policies. Conversely, many of the supermarkets and regional fast food chains Royal does business with have had a banner 2020, thanks to increased sales.
With all this going on, Royal has had to assess the situation each individual client is in and help that business to succeed the best it can under the conditions, while also focusing on being able to supply PPE and disinfecting products.
"The last segment of PPE and disinfecting was a driving force to remain open for our customer base in the food delivery services and ride-sharing, as well as universities that still had students on campus and in dorms," says George. "Meanwhile, our customary model with our partnership is heavy and active at all levels. That is the case with our theaters, malls, arenas and universities. From the first day of shutdown, [customers] formed task forces to help in the re-opening process. Our role was to help them filter through the myriad of noise as numerous entities entered the channel of jan/san looking for transactional opportunities with questionable products that do not meet the Centers for Disease Control and Prevention (CDC) and U.S. Environmental Protection Agency (EPA) guidelines and offer panaceas that bring solutions looking for a problem."
Of course, even the story of adversity that was George and Marianne's life lacks a chapter on how to maintain relationships and business during a public health emergency impacting billions of people. Still, customers came to them seeking a trusted partner to help navigate their businesses as they re-evaluated their operating procedures on the fly. As a result, a lot of the successes Royal has had in serving customers during the pandemic are due to sheer experience in establishing cleaning protocols, providing training to customers and an insatiable desire to deliver.
"Time availability to respond (to customer demands) was key," says Marianne. "Weekdays, weekends, day and night seemed to merge. [It's been] a very interesting pivot on the sense of time through this pandemic. The exciting part is that we are all one day closer."
The Abiaads say there are no tricks to the trade when it comes to helping customers in a difficult situation. Distributors just need to stay heavily engaged with customers, have their best interests at heart and keep promises.
"When they know how much skin you have in their success, they trust you and that speeds things along and allows true development of solutions that are mutually beneficial," says George. "Never take them for granted, earn it every day."
previous page of this article:
Husband And Wife Duo Stay Positive During Tough Times
next page of this article:
Customer Growth Takes Distributor Global