Introducing The Winners
Distributors Name Top Jan/San Products
---
BY SM Editorial Staff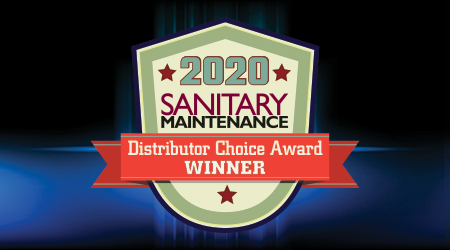 For the seventh consecutive year, Sanitary Maintenance has reached out to jan/san distributors across the country for insight into their favorite products. Each year, those distributors vote through an online ballot, whittling down the best products before winners are finally recognized with the Sanitary Maintenance Distributor Choice Award.
After a six-week voting process, jan/san distributors have decided on their favorite products for 2020. Sanitary Maintenance is proud to announce these winners of its 2020 Distributor Choice Award.
This year, products were divided into four product categories: Chemicals, Cleaning Tools, Equipment and Accessories, and Restroom Dispensers, Fixtures and Consumables. Distributors choose and ranked their choices for whatever reason they decided: best selling, most preferred, most recommended, most innovative, etc. The three highest vote getters were deemed the winners in each category.
Chemicals
Professional Lysol Brand Disinfectant Spray by RB Pro
Green Certified Mineral Shock by EnvirOx, LLC
Entry by Secure Winter Products
Restroom Dispensers and Consumables
Tork PeakServe Recessed by Essity Professional Hygiene
Komodo by Tolco Corp.
Vectair P-Screen by Vectair Systems, Inc.
Cleaning Tools
Professional Cordless Electrostatic Backpack Sprayer by Victory Innovations
3M Easy Trap Sweep & Dust Sheets by 3M
Mr. Clean Magic Eraser by P&G Professional
Equipment and Accessories
Scotch-Brite Clean & Shine Pads by 3M
GoFree Flex Pro II by ProTeam
Turbostrip by ACS Industries Inc.
next page of this article:
Top Cleaning Chemical Products
---