National 'Rock Star Custodian' Of 2021 Announced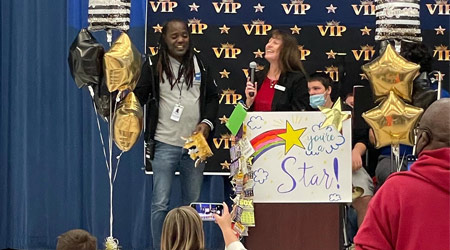 By the time final voting closed for the Rock Star Custodian 2021 Award on Dec. 15, Ron Crowley knew he was in close contention to take home the crown. But that would be all the school's coordinator of custodial services for Buddy Taylor Middle School (BTMS) knew for another 40-plus days. As reported by the Palm Coast Observer, however, Crowley was in for the surprise of his lifetime when he showed up for work on Jan. 26. As he entered the schools' cafeteria, he saw a bunch of familiar faces — albeit unexpected — including family, coworkers, and students. Perhaps the unfamiliar face to Crowley was David Thompson, director of the Academy of Cleaning Excellence to formally present him with the Rock Star Custodian Award.
The ceremony to announce the national award was one to remember, with the school band in attendance, a red carpet up to the stage and tables packed with cheering students. Crowley's district custodial director Ken Seybold, BTMS principal Cara Cronk, students, and his own sister (who made a long trek to surprise him from Tampa) all spoke his on presence at the school, his selfless demeanor, and his overall contributions across 27 years. The successful surprise plan was impressive to say the least. Crowley had been told by Flager Schools custodial supervisor Nancy Anderson that the votes were still being counted, when in reality, the ceremony and invitations were already well in the works. Everyone played their part, as Crowley emotionally thanked everyone in attendance — adding that it shows how hard work and dedication is always worth it.
Crowley's ability to built strong connections with students and staff alike earned him a spot on the BTMS leadership team. His attention to detail for when students may be struggling or hungry and the dedication to resolve it is just one of his many qualities. The Rock Star Custodian recognition serves as a perfect representation of not just a nice moment here and there, but the combination of decades of dedication to his craft and helping those around him.
Nominations for the 2022 Rock Star Custodian are now open! The application is open to custodians ranging from K-12 to universities and building service contractors (BSCs). For specifics on what to include, click here to access the form. The top finalists will be announced on Nov. 1, 2022.
To read about last year's Rock Star Custodian, check out our coverage here.