Infection Control Tips For Holiday Office Gatherings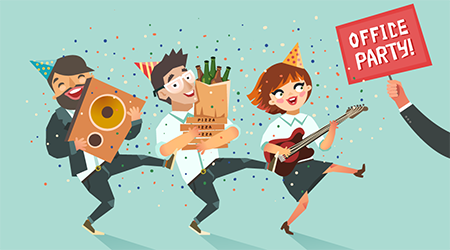 Whether you're an in-house manager, distributor or BSC, there's a decent chance your company will host some type of gathering to celebrate the elevated efforts of staff over the past year-plus. Any get-together will come with at least some inherited risk, but there's still plenty of measures facilities can take to ensure the safety of all involved. To help this process, Midlab compiled a series of helpful tips for different parts of buildings and what infection control measures can be implemented:
Lobby and Reception
Be sure to disinfect all all high touch surfaces including door handles, elevator buttons and furniture. To prevent the possibility of unpleasant odors, facilities can prepare on the front end by installing fragrance dispensers to keep occupants happy.
Kitchens and Dining Areas
When it comes to eating, certain practices are directly cleaning-related, but friendly reminders such as 'no-double dipping' or avoiding shared surfaces to eat off of can help reduce infection risk. More directly, facilities should strong encourage handwashing by having antibacterial easily available while also utilizing food surface sanitizers after areas are used. Hand sanitizer stations can add a nice touch as well.
Restrooms
Conventional tips include regularly disinfecting stalls and urinals throughout the gathering, promoting handwashing for a minimum or 20 seconds, and to avoid any contact with light switches, handles or other high touchpoint once the hands are dried after handwashing. Additional pieces of advice include discouraging the use of phones will using the toilet or urinal, and to actually use the first stall for the cleanest experience on-average (something that many would be surprised by).
For the complete set of tips, click here.