Hercules Jefferson, CEO of Hercules & Hercules, Inc. Dies at 90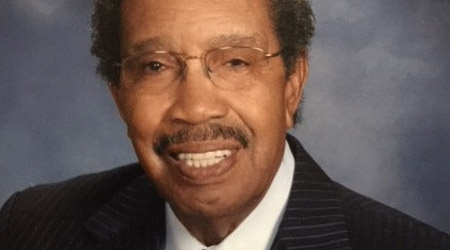 Hercules Jefferson, Sr., CEO and founder of Hercules & Hercules, Inc., died of natural causes on Friday, December 1. Remembered by his family, friends and community as a family man, devout Christian and mentor who devoted himself to serving youth in Detroit, he was 90 years old.

Jefferson was an only child born on April 24, 1927, in Madison, Mississippi, to Vanilla Gross and Robert Lee Jefferson. He was raised by his maternal grandparents Benny and Mary Gross after his mother's early death.

During his early life in Mississippi, Jefferson's family remembers a quiet and honorable young man who learned the importance of hard work as he farmed the land alongside his grandparents. As a child, he traveled 30 miles each way to attend school because he understood the value of getting an education. While attending Holy Ghost High School, Jefferson enlisted in the U.S. Army, serving in World War II as an infantry transportation specialist, completing tours in Germany and France. After earning an honorable discharge from the Army, Jefferson returned to Mississippi to continue his education, receiving his diploma from Lanier High School.

Jefferson grew up loving the Lord and declared his faith in God at an early age. While attending New Jerusalem Church in Jackson, Mississippi, Jefferson met the love of his life, Walter (Pat) Patton, in 1944. Determined to provide a good life for his young bride and son, he moved his family to Detroit in 1950. He and Pat joined First Baptist Institutional Church of Hamtramck in 1954.

Jefferson was a devoted family man who worked various jobs to provide for his growing family. He was a laborer at the Lakey Foundry in Muskegon; a factory worker at Dodge Main in Hamtramck; and a custodial supervisor for Selfridge Air Force Base, the City of Detroit and Wayne State University.

Jefferson always wanted to establish his own business, and after accepting a job to refinish his boss's basement floors, he realized his dream by creating Hercules & Hercules Janitorial Company in 1964. In 1970, Jefferson became the union representative for Civilians of Police A.F.S.C.M.E. Local 1023. He included his wife and children in all his efforts to build his legacy, and expanded the business into a full-fledged multi-service and distribution company, Hercules & Hercules, Inc., in 1984.

Jefferson loved spending time with his family boating, camping and fishing, often traveling to Canada for week-long fishing trips. His family enjoyed cleaning fish together in the backyard. Family members recall his often-repeated advice: "Don't forget to bury the fish heads and guts in the garden. It helps the soil stay rich with nutrients for growing our vegetables." Jefferson also enjoyed grilling, hunting, golfing and classic cars. He loved music, especially New Orleans, modern and classic jazz.

His appreciation for education and helping others encouraged him and thirteen other courageous men of First Baptist Institutional Church to establish The Men Who Dare in 1959. They began selling barbecue dinners to help finance the efforts of young people who wanted to further their education. Jefferson cherished the brotherhood of The Men Who Dare, and he remained devoted to the organization's mission for 58 years, serving two separate terms as its president, awarding nearly 600 scholarships.

On Friday, December 1, 2017, at his second home – Hercules & Hercules, Inc. – Jefferson was called to begin a new journey with the Lord. He leaves to cherish his memory his loving wife of 70 years Pat Jefferson; his children Belinda (Flora); Annette Ellis (Keenan); Robert (Teresa); Charmain Ford (Willie), Hercules Jr. and Mary Lou –who preceded him in death. Grandchildren: Erich (Melissa), Aron (Shaakira), Kenyatta (Darnell), Krysten (Jamal), Dominique, Lauren, Brandon, Bryan, Robert Jr., Sydney, Deon and Sonsirae. Great grandchildren: Jason, Joslyn, Xavier, Maya, Christopher, Kenzington, Jenna and Deongelo; and a host of cousins, other relatives and friends.
Disclaimer: Please note that Facebook comments are posted through Facebook and cannot be approved, edited or declined by CleanLink.com. The opinions expressed in Facebook comments do not necessarily reflect those of CleanLink.com or its staff. To find out more about Facebook commenting please read the Conversation Guidelines.