Managers Of Distinction Award Winners
Yang Sook Choe - Humble And Hardworking
---
BY Corinne Zudonyi, Editor
Yang Sook Choe
Custodial Manager Of Operations
University of Washington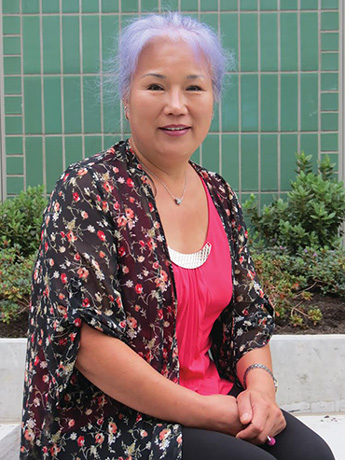 Yang Sook Choe shuns the limelight — even though she has every right to bask in it.

"Yang Sook is very humble and doesn't do this work for the recognition," says Gene Woodard, director of building services at the University of Washington, Seattle. "She does it because she wants the organization to be the very best it can be. She lives and breathes it."

As the custodial manager of operations, Choe exudes passion for her work and considers UW her home. It has been that way since she first started as a custodian on campus roughly 28 years ago.

"I know each and every corner of campus," she says. "My heart beats when I walk in. I am married to this place."

That marriage has served both parties very well. Over the years, and after displaying obvious leadership traits, Choe has moved up the ranks into management, where her true talents continue to drive the cleaning mission on campus.

Having been in their shoes, Choe knows exactly how to lead her team of more than 60 employees as they clean the entire 12-million square feet of the Seattle campus. The combination of an extensive and efficient training program on campus and Choe's hands-on demonstrations, communicate exactly what Choe expects from her staff. And according to Woodard, the example she is setting is more than just how to do a job.

"Her staff knows and takes pride in the fact that Yang Sook is working even harder than they are, so they rise to the occasion time and again," he says. "She works her team hard, but no one ever wants to leave once they start working with her."

Working with Choe means being open to new projects and giving your all. During her time at UW, Choe has embraced new opportunities with enthusiasm and determination. When asked recently about taking on additional project crews and shift teams, she readily accepted and quickly went about making improvements in work schedules, safety and services — even though it meant cutting into her personal time.

"I am a go-getter," she says. "I don't see these things as challenges. They need to get done. What some might see as a challenge, I see it as an opportunity."

And Choe can be very opportunistic.

For example, commuting to and from the office during winter months, paying for parking and then walking — often in the dark — to check into work was challenging for much of Choe's staff. In fact, the commute not only strained personal budgets (parking on campus is over $100 a month), but inclement weather often triggered worker absenteeism.

Realizing commuting was a challenge for her staff, Choe set out to make a change. She launched and championed the UW vanpool to aid her staff in the commute.

For less than $5 a month per person, the vanpool has helped nearly 150 staff members commute to and from work, on time, with ease. The vanpool not only parks for free closer to the main office area, making the walk safer for staff, but Choe's idea has also improved communication and camaraderie among workers, since riders have a 20-minute drive each way with nothing to do but talk.


"Yang Sook spearheading this program has reduced stress on parking spaces and single-occupied vehicles on campus," says Woodard. "It has also helped reduce greenhouse gas emissions and complies with the sustainability initiatives on campus."

Choe is described as both a thinker and a doer — a person that has high expectations for herself and the department.

"The results are extremely clean buildings and high customer satisfaction," says Woodard. "Yang Sook's work ethic is the ideal state for others to strive for, and her team lives up to her high standards with pride."
previous page of this article:
Brian Tallmadge - Technological Maven
next page of this article:
Victor Tovar - Custodial Keeper
Disclaimer: Please note that Facebook comments are posted through Facebook and cannot be approved, edited or declined by CleanLink.com. The opinions expressed in Facebook comments do not necessarily reflect those of CleanLink.com or its staff. To find out more about Facebook commenting please read the Conversation Guidelines.