Make the Most of It
When to Keep, Use or Toss Stockpiled Chemical Inventory
---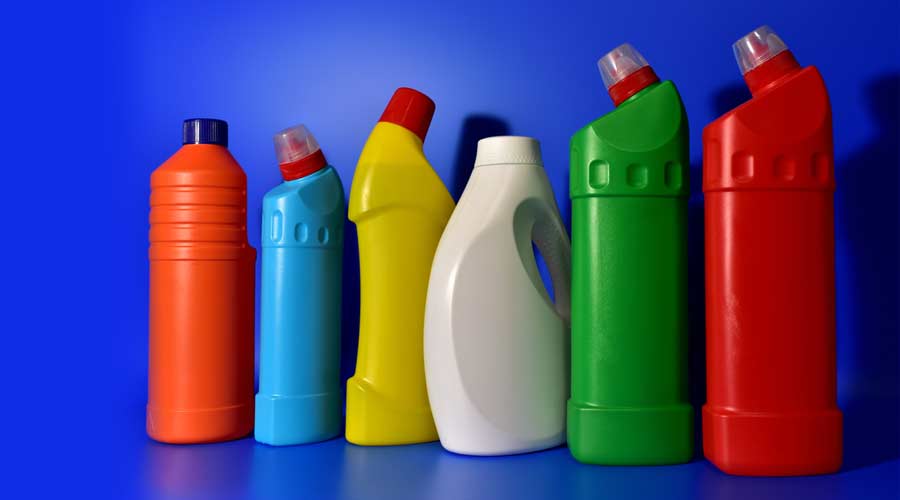 The uncertainty surrounding a global pandemic prompted many facility cleaning managers to go on a buying spree back in early 2020. Departments stocked up on cleaning supplies, equipment, anything they could get their hands on.
Stocking up on cleaning supplies made sense in the face of a contagious virus. Purchase before prices shot up thanks to panic buying at the consumer level, not to mention the shipping snags that followed. Managers believed it was better safe than sorry because what if prices spiked even higher or supply chains snapped?
Over the next two years, however, lockdowns and the work-from-home migration reduced occupancy loads and, with them, cleaning demands. Even with supply chain challenges forcing the slowdown of purchasing, many facility cleaning managers found themselves left with a glut of unused inventory, much of which is stamped with a looming expiration date.
Bottles upon bottles in janitors' closets are nearing or passing their expiration dates. Cleaning teams face the daunting challenge of using up or disposing of surplus chemicals, and avoiding a similar backlog in the future.
A Common and Costly Problem
"We've seen it across the board. Manufacturers overbought raw materials, and with the supply chain being as messed up as it was, everyone wanted to make sure they had product to keep going," says Stephen Halpin, president of Norman, Fox & Co., a jan/san distributor based in Industry, California. "Then all of a sudden, the bottom fell out."
The supply chain is returning to pre-pandemic norms. Freight costs from China or South Korea that were as high as $10,000 a year ago, Halpin says, are now $1,200. Delivery times of up to 14 weeks are down to as little as six.
These changes have left companies up and down the supply chain with excess inventory.
As an example, rheology modifier — a thickener for hand sanitizer — sold "like gangbusters" during the pandemic, Halpin says. He placed an order based on demand at the time.
"By the time the cargo boat got here, the sanitizer craze ended and we were stuck with half a million modifiers no one wanted," he says.
Excess inventory is not ideal. Facilities overpaid during the pandemic for many products — especially hot-ticket items like hand sanitizer and disinfectants —thanks to elevated shipping costs. In addition to being overpriced, those products continue to incur costs related to storage. Plus, there may be additional expenses for disposal.
Like so many others in the cleaning business, Halpin is still working on ridding his facility of modifiers and other unwanted products.
When to Say Goodbye
The best way to avoid eating the cost of excess cleaning chemicals is to use them before they go bad. That may seem obvious, but it's often difficult to tell whether a product is still serviceable.
Many products, such as all-purpose cleaners or quat-based germicidal cleaners, remain shelf-stable for years if they're unopened and properly stored, say experts. Other chemicals, like peroxide-based concentrates or oxidizers, may last only a year or two.
There aren't many hard-and-fast rules about labeling cleaning products with expiration dates either. Manufacturers may voluntarily include the information on bottles or on their websites, but it isn't required.
An exception is disinfectants, which must remain stable for one year past the manufacture date, and this information is required to be printed on the container. Once the chemical reaches its expiration date, it must be properly disposed of.
"The dirty little secret of the cleaning world is that a lot of people don't know this stuff expires," says Ben Walker, COO at ManageMen, Inc., a cleaning industry consultancy in Salt Lake City.
While the Environmental Protection Agency (EPA) regulates most cleaning chemicals, the Food and Drug Administration (FDA) makes rules about hand sanitizers. The hand hygiene product expires based on the manufacturer's best guess of when the alcohol content will dip below 60 percent, Walker says, which is typically about three years.
That said, hand sanitizer purchased at the start of the pandemic is nearing the end of its usable life. The same is likely true of disinfectants and other cleaning chemicals purchased during the supply-chain crunch of 2021-2022.
Departments with a surplus of these products likely need to use them quickly or lose them. If managers are not certain of expiration information, seek advice from the product manufacturer or distribution partner.
When in doubt, experts agree that managers should err on the side of caution. Expired chemicals can lose potency, but can also become dangerous.
"There's a cornucopia of things that can go wrong," Walker notes.
For example, disinfecting with a product that's no longer effective poses serious health risks. It can begin emitting volatile organic compounds (VOCs) or become less effective at killing bacteria. There's also the threat of chemical confusion, and a worker getting their hands on the wrong chemical. This can destroy surfaces, or worse.
"If you don't have the safety data sheets (SDS), or if the label is distorted, that's a huge safety risk," Walker says. "If someone has a mishap, it's harder for a doctor to treat them without that information."
next page of this article:
Making the Most of Your Inventory
---