Making An Impression
Tips For Improving Restroom Experiences
---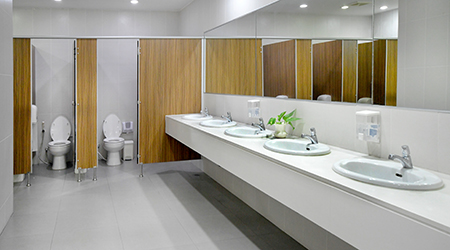 Public restrooms – we all use them. There they are, scattered around offices and airports, schools and shopping centers, restaurants and sports venues; anywhere that people work, shop, gather, or happen to be passing through. And without a doubt, it's a safe bet to say that everyone has, at least once in their life, encountered a public restroom space that left a less than pleasant impression.
Maintaining restrooms to an acceptable standard of cleanliness, convenience and functionality is a challenge for building managers, but it is also a vital component of customer service that reflects on the building and business as a whole. Customers, employees and visitors will remember a dirty, smelly or poorly stocked restroom and will not hesitate to share their experience.
Unfortunately, the cause of most of the unpleasantness in restroom spaces is the people who use them. Toilets are often unflushed, pooling water is left on the counters, questionable substances linger in the sinks, and used paper towels get tossed everywhere but in trash receptacles. Because restrooms are usually enclosed spaces that may not be all that well ventilated, they can develop unpleasant fragrances from splashes, spills, dampness, trash and personal odors.
Fortunately, there are products and tools available that facility cleaning managers can supply to tackle the challenge of cleaning and maintaining restroom spaces, while also streamlining and simplifying the job for custodial staff. From odor control to cleaning products that can improve staff efficiency, here are some options for winning the restroom wars and creating positive experiences for building visitors and occupants alike.
First Impressions Matter
As visitors step through the door of a restroom, the first impressions come from their eyes and nose. They'll immediately see if trash is overflowing or littering the floors and they are going to smell offensive odors, both of which will create a negative impression.
The presence of unpleasant odors is one that can be pervasive and must be dealt with on a regular basis. Controlling odors involves constant cleaning to remove the source of the foul smell, as well as freshening the air within the space.
"A properly cleaned restroom has no odor," says Bill McGarvey, CPT, ICE-GB, LEED-Green Associate, WACH, director of Training and Sustainability for Imperial Dade in Jersey City, New Jersey. "That said, transient odors come into play and not all restrooms are thoroughly cleaned, thereby making the use of odor control products necessary. Products that break down or change the odors are preferred to those that merely mask the problem."
Industry experts agree that good cleaning will eliminate most odors, but air care products are a great way for departments to upgrade the experience for customers or employees. For example, motion-activated in-stall systems function with just the wave of a hand, and can be a nice complement to whole-room dispensers and urinal screens.
Proper cleaning will remove odors at their source and air care products will provide pleasant aromas, but more needs to be done to create strong first impressions for restroom visitors. Upon entering, patrons will immediately notice overflowing trash bins, litter left on surfaces, or toilet-seat covers still clinging to the seats.
Keeping litter picked up and contained or removed requires regular policing by custodial staff. Scheduling these checks will depend on the type of facility; an office building may only need to be picked up during routine cleaning once a day, while restrooms in a busy airport may need to be checked every couple of hours. Checking restrooms for scattered trash, standing water on countertops, liquid soap and other spills or visual distractions should supplement routine cleaning and disinfecting.
"Periodic servicing of restrooms is necessary in most settings, but staff should only be addressing those items that can't wait until later," says McGarvey. This might include stocking supplies, emptying the trash and light cleanup, all of which can be done without disrupting building occupants.
"More thorough restroom cleaning can really only be done with the restroom closed for the process," he adds. "We are working with chemicals, possibly equipment, making floors wet, etc. Policing or touch-ups are another thing altogether."
next page of this article:
Software, Easy-Use Dispensers Improve Restroom Perception