A Journey To Healthy Flooring Programs
Steps For Considering A Floor Plan Change
---
One of my school district's most rewarding and healthy flooring projects was replacing a VCT floor in an elementary school cafeteria with polished concrete. There are a variety of floor pad technologies to choose from, with floor pads for almost every occasion and environment. For this project, we used Diversey's Twister Extreme red pad to remove the original finish; this pad requires only water for floor stripping.
Companies also make pads that clean and polish in the same step and last up to 500,000 square feet, a true savings when considering the reduced floor maintenance costs, decreased labor hours to maintain the floor, and minimized disruption over traditional strippers and floor finish recoating.
I discovered Diversey had a solution to maintaining polished concrete floors without using floor finish or guard to maintain the overall gloss in 2018. Early last year, my team worked with Diversey to conduct a 90-day trial of their Twister process using orange, blue and pink pads. The photos above show the changes this process made to our flooring.

Our in-house team started with a 4,400-square-foot VCT cafeteria floor.
The second photo shows a gloss reading of 5 after complete stripping of the previous coating.
After using the orange pad (no finish or coatings applied), the gloss reading was 15. Then the blue pad resulted in a gloss reading of 35, shown in image three.
After 30 cleaning cycles using the Diversey orange, blue and pink pads, the gloss readings continued to increase and showed impressive results. Simply switching to a diamond pad expanded our green cleaning program to include floor care all year.
Before getting started, some important factors to consider are:
The elimination of chemical usage in flooring.
The creation of cleaner floors and safer working conditions.
Reduced labor costs and no need for restorative maintenance because of daily/deep cleaning in one step.
With proper maintenance, floors remain shiny and healthy.
There is no need to purchase expensive equipment or chemicals, just using water in an autoscrubber along with the appropriate pads.
Significant change can be as simple as changing out a pad.
Gloss meter readings in the elementary school cafeteria after three months ranged anywhere from 54 to 68 gloss units (GU) — keep in mind there is no floor finish on this floor. The floor looks continuously healthy and clean every day. This was a definite win for us.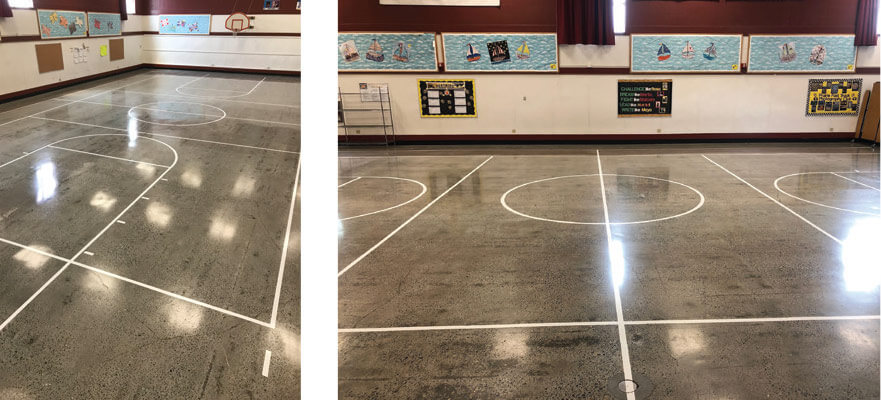 The fourth image shows the completed floor — a traditional sealed polished concrete floor with a guard product then burnished to achieve appealing appearance. Even without finish or coatings applied, the last image shows a gloss reading of 68 after using just a pink pad — cleaned and micro-polished daily (two steps in one) with an easy and simple system.
Tony Almeida is the Manager of Custodial Services at the Elk Grove Unified School District, in Elk Grove, California. He also serves as a Committee Member of Healthy Green Schools & Colleges, a verifiable program created by Healthy Schools Campaign and Green Seal that promotes healthy and sustainable facilities management, procurement and practices for schools and universities nationwide.
previous page of this article:
Polished Concrete Flooring Trims Spending, Improves Sustainability