A Journey To Healthy Flooring Programs
Polished Concrete Flooring Trims Spending, Improves Sustainability
---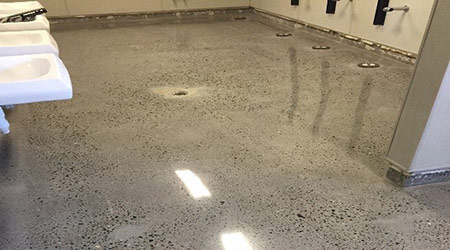 Every year, schools spend millions of dollars replacing worn out floors. These materials are not only costly, they can have a negative impact on the environment. As facility managers and directors become more conscious of the material impacts and financial costs of flooring, more sustainable and healthy floors could be the best decision for their bottom line.
In most schools and buildings, floors are traditionally covered in various forms of tile — vinyl composite tile (VCT), luxury vinyl tile (LVT), resilient/sheet vinyl, rubber tile or sheet goods, terrazzo and epoxy. But what about polished concrete?
Polished concrete floors are considered highly sustainable, since it's a material that is already in place in facilities. Polished concrete floors are also very durable, easy to clean and highly reflective, which reduces the need for artificial lighting, decreases maintenance time and, with proper care, will last a lifetime.
These floors are also cost-effective and practical, they can reduce moisture vapor that can cause indoor air quality (IAQ) concerns, and they are a low- to no-VOC (volatile organic compound) alternative to other hard surfaces. Most importantly, for those in the cleaning world, this hard floor option should never need chemical stripping or waxing, provided the right floor care program is implemented. These advantages to clean floors are critical for student and staff safety, success and health.
Hesitation To Change
Although the benefits of polished concrete floors are very convincing, many managers are still reluctant to make the change from traditional flooring options. Some of the major concerns are noise, polishing cost, condition of the concrete itself (such as cracks) and the amount of time it takes to convert. That fear of the unknown has caused many to go with what they know and stay with carpet or vinyl flooring.
When considering the full cost of polished floor maintenance against traditional flooring, facility operators should consider:
What is involved in restoring the floor?
What is the environment that the floor will be exposed to?
What are the health and environmental impacts of each material?
What does it cost to maintain the current flooring?
For example, if a school is located in a rural area, there might be issues related to sand and dust. VCT will be immediately scratched and scarred when exposed to these particles. Carpeting will trap the sand, causing fibers to break down faster than they should, and when disturbed, it can release allergens into the air.
Even though a polished concrete floor will likely get scratched from the same sand, the cost to maintain and restore it is significantly lower in the long run. Polished concrete is repairable and, with proper maintenance, should never need to be replaced like carpet or VCT.
When someone asks about the cost and time of removing old flooring and polishing the concrete, I recommend developing a program that starts small and steadily converts spaces as needed, versus doing it all at once. My school district made the smart choice to invest in proper equipment and staff training years ago. From there we developed a program that reduced our maintenance costs, including transitioning to polished concrete.
When given the choice between waiting for funds to replace carpet or VCT, or polishing the existing concrete, it's a no brainer — polish the concrete.
Polished concrete has its own personality and characteristics. It's a work of art and not one floor is the same. In fact it becomes a conversation piece amongst staff and community, and can have a positive impact on the environment and the health of those who use the school every day.
A Personal Journey
Because a photo is worth a thousand words, I'd like to take you on a visual journey through some of the recent work done in my district. The floors were all finished in-house by our custodial staff members.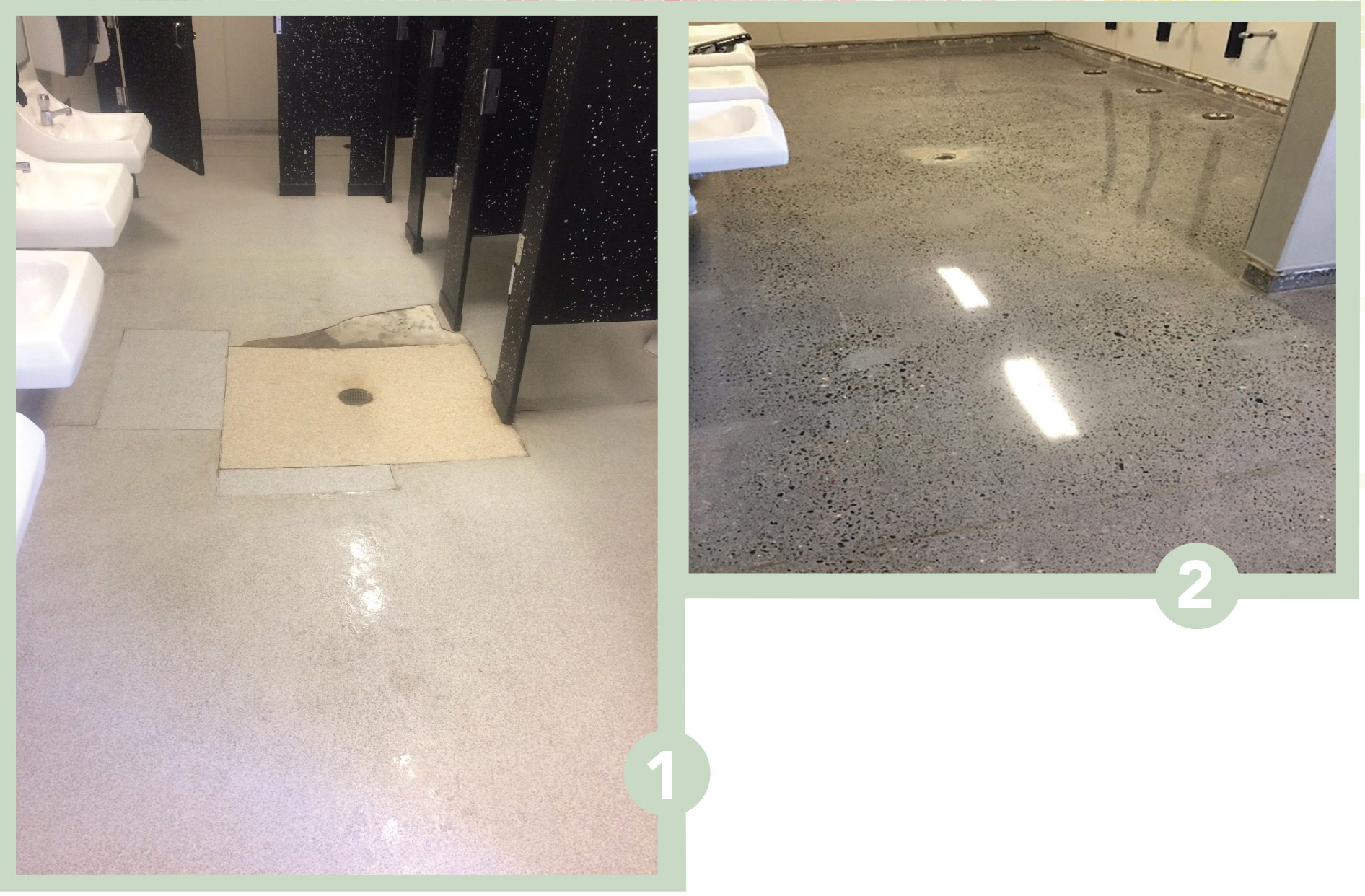 Photos 1 and 2 above are a before/after example of a student restroom where we repaired the sheet goods. Before, bacteria and germs could make their way into the cracks and seams, which were challenging to clean and often caused odors. After, there were no cracks to contend with.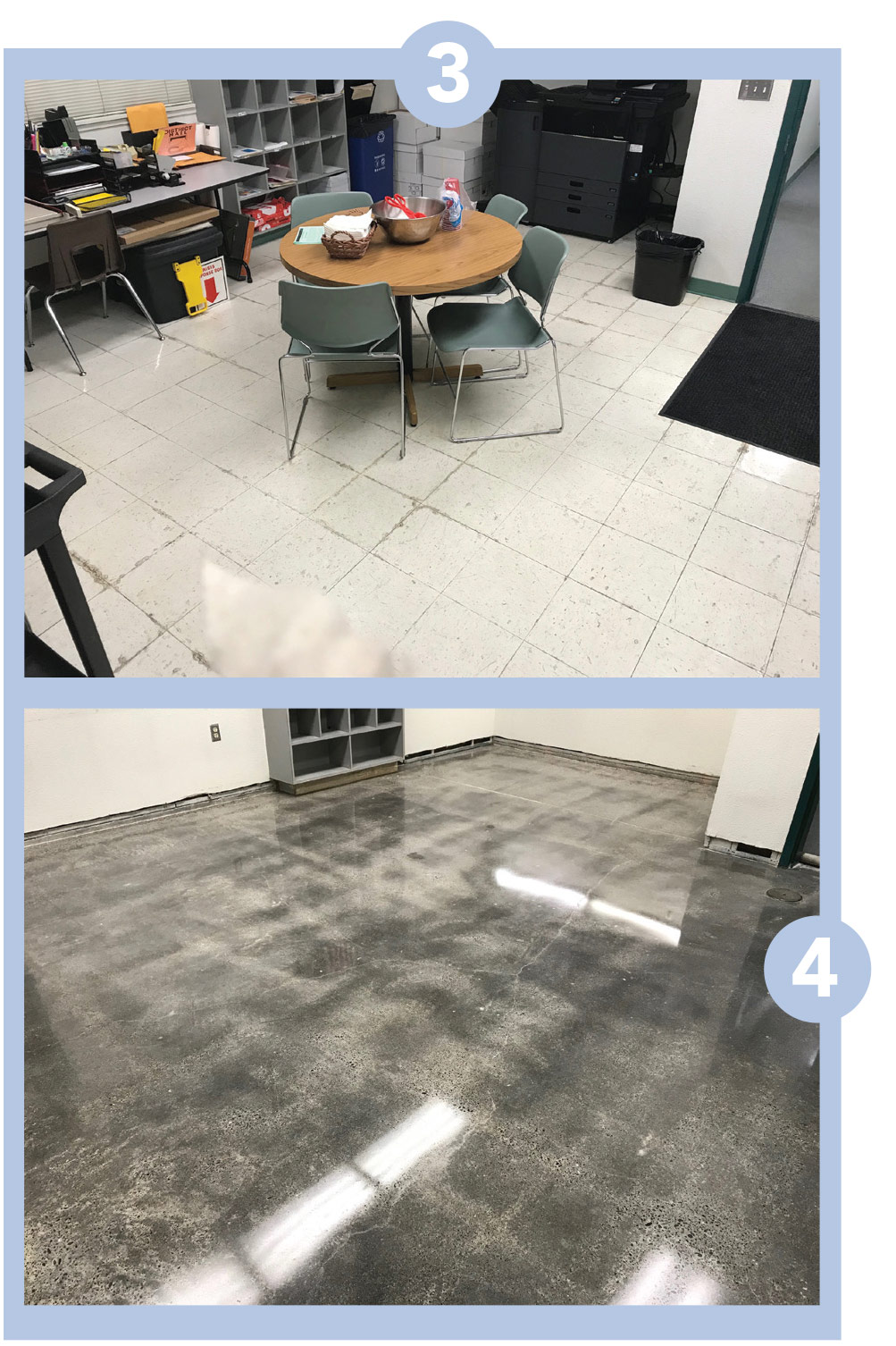 On the left, photos 3 and 4 show a staff lounge that featured VCT floors that were damaged because of moisture. The tiles were removed and the concrete was polished using a floor protector.

Finally, illustrated in the above photos 5, 6 and 7, we converted a multi-stall student restroom from tile to polished concrete in three steps.
These days, going green is on the minds of most facility operators. This shift toward building and maintaining "green" facilities has had an impact on what defines the role of a facility and instituting sustainable cleaning and maintenance practices is a top priority. Updates and renovations contribute significantly to facility sustainability efforts, including decisions around flooring.
next page of this article:
Steps For Considering A Floor Plan Change
---