Facility Focus: Keeping Pace With High-Traffic Facilities
Sensor Technology Simplifies Restroom Stocking
---
BY James DeGraff, Associate Editor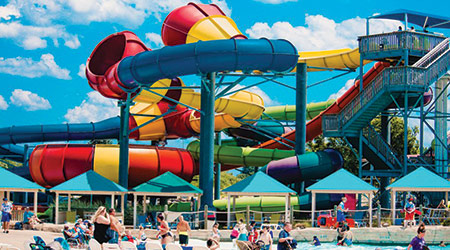 With 70 amusement rides and 20 water park attractions across 63 acres, the ideal adrenaline rush exists for just about anyone at Kentucky Kingdom and Hurricane Bay in Louisville, Kentucky. From haunted houses to a newly-constructed "Kentucky Flyer" roller coaster in 2019, park management is always looking for more reasons to get visitors through the gates.
But with great variety of entertainment comes great responsibility in ensuring all facilities and amenities across the park are kept up to speed. Well aware of competing venues and the often-considerable time investment families commit when deciding to visit, staff knows that one unpleasant experience — such as a restroom stall in regrettable condition or an overflowing trash bin — could escalate into a flurry of complaints.
With up to 9,000 daily visitors in the peak of summer 2017, park staff found keeping all 24 park restrooms adequately stocked and clean to be a relentless task. A notable day-to-day issue was accurately gauging which areas of the park were in most critical need of maintenance, as incorrect allocation of staff and resources could quickly escalate into unpleasant experiences for hundreds of guests.
"During our busiest hours, we have almost 30 cleaning staff members tasked across the park, with at least 10 of them focusing directly on the restrooms," says Jessi O'Daniel, senior manager of guest relations at Kentucky Kingdom and Hurricane Bay. "Still, we knew we could improve the efficiency of our processes, especially when it came to response times on full trash bins and biohazard cleanup."
A trip to the 2017 IAAPA Expo provided park executives the opportunity to see a potential upgrade firsthand; a product showcase for the Tork EasyCube facility management system. Combining the use of alert-based sensors on equipment and restroom entrances with a digital user interface, Tork EasyCube enables facility managers to keep tabs on maintenance needs for paper and soap dispensers, waste bins and general bathroom cleanups throughout an entire property.
The system is accessible by tablet, smartphone or web-enabled devices and compatible with 13 Tork-branded products.
"It was something I had never seen before and knew we could definitely benefit from adding it to the park, so we went ahead and set the system up for every bathroom on the property," says Jake Allgeier, park services manager at Kentucky Kingdom and Hurricane Bay.
As expected, the system's implementation into 163 devices across the park in the spring of 2018 has since produced an average of 20 percent time-savings improvement for menial tasks.
next page of this article:
IoT Advancements Measure Employee Performance