Keeping Pace With High-Traffic Facilities
IoT Advancements Measure Employee Performance
---
BY James DeGraff, Associate Editor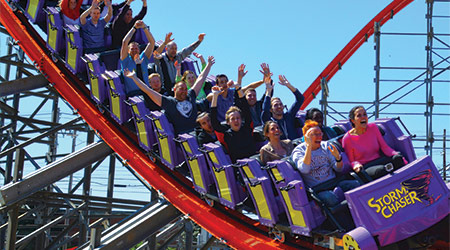 Key to the park's improvements are predetermined thresholds installed on the sensored equipment, automatically alerting staff to be dispatched to areas of attention throughout the park. With significant fluctuation in guest traffic between park zones across varying times of the day, knowing the stocking needs of every individual restroom in real-time through a smartphone eliminates unnecessary checks and allows for better allocation of labor.
"The system has aided the entire stocking and maintenance process. It guides our workflow because it's based on what areas and supplies are actually being used," says O'Daniel. "Since we no longer waste time on opening each dispenser multiple times per day, we are able to use those efforts elsewhere to keep even more parts of the park clean. It's rare that we ever have a restroom that is not stocked with toilet paper or soap."
Tork EasyCube's real-time alerts are categorized into tiers of urgency, helping cleaning staff to prioritize accordingly. For each paper and soap dispenser, status updates are given as "No Action Needed," "Refill possible" and "Refill Needed."
The sensor technology also determines visitor counts for restrooms through the installation of visitor registration units at entranceways. It provides exact totals and alerts staff that cleaning is needed once a particular threshold is met.
The high volume of dispensers in the system is simplified by a task management option within the user interface, enabling staff to highlight particular tasks and check them off once the job is done. It also eliminates confusion between staff members on what tasks are still required as different employees are beginning and ending their shifts throughout the day.
"Having that detail allows us to strategically place our team members in the areas that are trafficked the most," says O'Daniel.
Keeping Tabs
An equally valuable component of the Tork EasyCube system is the performance tracking metrics. The software not only tracks stocking needs, but also how efficiently a cleaning staff is addressing those shortages. Statistics are transparent for all to see, holding employees accountable for effort and ability to keep up with the pace of the system in relation to key performance indicators set by management.
While the data can pinpoint struggling or underachieving employees, it can also serve as a rewarding tool that gives supervisors empirical proof on the highest-performing members of a team.
"Performance has increased since implementing the software, as our team knows we can see everything that is going on across the park," says O'Daniel. "We have really been able to elevate our performance as a team and receive great remarks about the cleanliness of the park."
Adopting the system also comes with training materials to simplify installation along with the guidance of a Tork EasyCube Success Coach; a company expert that conducts on-site training multiple times per year and answers any software-related questions for management or employees. Kentucky Kingdom and Hurricane Bay's success coach plays an integral role in analyzing data from the past year and helping the park identify ongoing areas for improvement.
While not every member on the cleaning staff has direct access to the technology, O'Daniel says the park is likely to extend accessibility to all employees in the future. Park supervisors are given the option of a tablet to monitor the system, but most prefer the phone interface, instead.
Overall, O'Daniel says the system has been well-received and she anticipates additional insight on the park's strengths and weaknesses as more data is collected over time.
"Anyone considering the technology should do it. It's a no-brainer," says O'Daniel. "Anything that makes it easier to keep track of and ensure cleaning and stocking is performed at all times is worth the investment. We don't understand why every park isn't using this system."
previous page of this article:
Sensor Technology Simplifies Restroom Stocking
Disclaimer: Please note that Facebook comments are posted through Facebook and cannot be approved, edited or declined by CleanLink.com. The opinions expressed in Facebook comments do not necessarily reflect those of CleanLink.com or its staff. To find out more about Facebook commenting please read the Conversation Guidelines.