Overcoming Hurdles
Managers Conquer Departmental Challenges
---
BY Corinne Zudonyi, Editor-in-Chief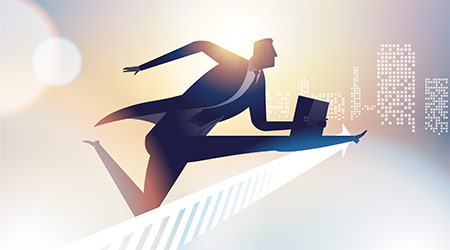 Front-line workers often look at their facility cleaning managers and assume they can do that job. It looks pretty easy. Managers touch base every now and then, talk shop or ask questions of the staff, and impose rules and departmental policies. Basically, the perception is to put a clipboard in someone's hand and he or she can be a manager.

They aren't all wrong. Managing is pretty straightforward, except these observations aren't considering the leadership component. Strong managers don't just manage processes, they also lead people and steer departments toward success. They face hurdles straight on and overcome obstacles. Being a leader in facilities today is not as easy as it looks.

To tackle some of the more challenging obstacles managers face, Facility Cleaning Decisions reached out to our advisory board of experts for advice. Below, these exemplary leaders addressed evolving with innovation, overcoming negative industry perceptions, tackling various staffing challenges and more.
There have been a number of innovations to the cleaning industry in recent years. How do you see these advancements impacting cleaning departments moving forward?
Ada Baldwin
Director for University Housekeeping
North Carolina State University
Raleigh, North Carolina
The innovations to the cleaning industry have impacted the departments in several positive ways. Our department has noticed a decrease in the rate of injuries due to more ergonomic equipment. Also, incorporating electrolyzed water is an environmentally friendly option that also improved health and has helped reduce absenteeism..


Michael Jones
Director of Custodial Services
Columbia Public Schools
Columbia, Missouri
I am always interested in learning about and testing new technologies, but it is sometimes difficult to balance a change if current equipment or procedures are working. It takes time to research, test, and analyze any new innovation before you make a commitment to proceed.


Karie King
Manager Environmental Services
Aurora BayCare Medical Center
Green Bay, Wisconsin
As we are asked to continue to do more work with less staff, these innovations are critical to the success of our departments. Any process that will improve our productivity is a win for the department and our customers.


Gene Woodard
Director of Building Services
University of Washington
Seattle, Washington
There certainly have been innovations that show promise. I am very intrigued by robotic floor scrubbing machines for use in large buildings with a lot of hallway space. We have a 3 million square foot (gross) building with 17 wings and we spend a lot of time trying to keep hallway floors clean. I can envision robotics cleaning these floors and freeing up custodians to perform other cleaning tasks, but the machine would need to be run several hours daily in order to have a reasonable return on investment.

I am also intrigued by Internet of Things (IoT) and its potential to keep dispensers stocked and restrooms clean. A couple years ago, we placed a survey tool in our busiest restrooms and learned the times of day/night when customers were least happy with the cleanliness. We adjusted our schedules and/or increased cleaning frequency at targeted times. I can foresee IoT improving restroom cleaning schedules.
At a time when negative perception of cleaning is common, how do you shine light on the good things being done in your department?
Baldwin — A great way to change those negative perceptions of the cleaning industry is to partner with another department and let them tell the story for you. For instance, we partner with our Sustainability department. During the month of April, Earth month, the Sustainability department hosts several events including an Earth Fair. This provides our department a chance to show our equipment/products and share the positive impacts we have made towards cleaning for health and the environment. It demonstrates the science used for cleaning and how the industry is continuously evolving through improved indoor air quality, reduction of water usage, integrated pest management, etc. This event allows us a chance to educate the campus community about the benefits gained from our cleaning methods. Additionally, we are members of the Sustainability Council where our voice can be heard to bring value to the cleaning/industry and staff.

We also partner with our Waste Recycling and Reduction (WRR) department promoting waste reduction and an increased push toward recycling. Both the Sustainability and WRR departments educate the campus community through marketing, social media and different campus activities, changing the negative perception of the cleaning/industry while telling our story.


Babette Beene
Environmental Services Manager
University of Texas MD Anderson Cancer Center
Houston, Texas
We tend to focus on the good things our staff does, such as accolades from the patients on how the housekeeper made them feel. We also post the Press Ganey scores (personal patient satisfaction ratings) on housekeepers work performance.

Jones — We just completed our summer cleaning for the start of school and received numerous compliments from principals, teachers and staff on how great our building look. We'll also receive compliments during the year on a specific staff member or building cleanliness. When that happens, we make sure to thank those that submitted the comment with an email, thank you note or in-person communication. It's also important to always follow up in person with the staff member to share accolades and always send the recognition to administration.

King — We find that with our team, recognition of the value they bring to the organization is a must. We often do not get credit for cleaning. We focus on the fact that in our world, we do not clean, we save lives. If it were not for the detailed cleaning and using the correct chemicals and processes, we would not be protecting our patients.

To recognize staff, we will post "kudos" and "great job" cards that we receive. Then we draw for gifts every month from all those that received a positive note.

Woodard — I suggest exploring the possibility of daytime cleaning schedules. Daylight provides far more opportunity for the custodial department to shine, versus toiling during the dark of night when nobody is around to see them. We started migrating to daytime cleaning schedules back in 1997. Since 2010, all but two buildings on campus are cleaned during an early day shift. As a result, there has been a gradual and very obvious improvement in how the campus community perceives the professionalism of the department. Whenever we conduct customer satisfaction surveys, the highest score is the courteous and professional staff.

I would also suggest you actively engage and market your department to your community, customers, stake holders, and cleaners about various aspects of your program.
next page of this article:
Overcoming Cleaning And Staffing Challenges
Disclaimer: Please note that Facebook comments are posted through Facebook and cannot be approved, edited or declined by CleanLink.com. The opinions expressed in Facebook comments do not necessarily reflect those of CleanLink.com or its staff. To find out more about Facebook commenting please read the Conversation Guidelines.