A Mountain Worth Climbing
Management Survey Reveals Top Cleaning Trends
---
BY James DeGraff, Associate Editor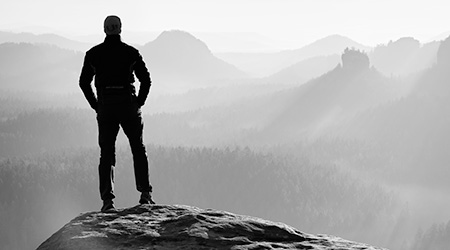 While countless cleaning departments are experiencing a (relative) return to normalcy in many regards, the reverberating effects from the pandemic brought temporary challenges at the least — and permanent shifts in the way cleaning is perceived at the most. For that reason, the feedback gained from facility cleaning managers on the current state of the industry is perhaps more interesting than ever before when putting together the "2021 Facility Cleaning Decisions Management Survey."
With regard to cleaning priorities, improving hygiene lead the way among managers for the second year in a row at a 50 percent clip, up 10 percentage points from last year's results and nearly 30 points from 2019. This jump, coupled with 28 percent of managers prioritizing improved facility appearance (up 10 percentage points from last year) come as little surprise as the perception of clean goes hand-in-hand with safety in the campaign to return occupants to offices, hospitality venues and more.
The biggest jumps in terms of cleaning priorities year-over-year include improved productivity/cleaning times (44 percent, +31); preventing cross-contamination (44 percent, +31); and improving indoor air quality (33 percent, +32). These seismic category jumps mark a promising trend for facility management as a whole, indicating increased building occupancy and improved trust/sense of safety.
Acting on these elevated priorities, however, comes with elevated costs. After static budgets were a hurdle for 27 percent of cleaning managers in 2020, facility decision-makers have been more open to budget flexibility in 2021 with over one-third of respondents reporting an increased budget as a result of the coronavirus pandemic. The key enabler to these increased budgets is cleaning/disinfecting equipment, supplies and frequencies — with 93 percent of managers reporting an increase in the practice since the pandemic.
On the staffing side, the reopening of doors for all facility sectors has reinvigorated the hiring market for 51 percent of cleaning departments — up 13 percentage points from last year. The leading reasons for this boost include increased workloads to keep up with elevated cleaning demands and additional square footage/facility expansion. The latter is particularly interesting and one to keep an eye on, as many facilities — particularly office sectors — are revamping the layout of their buildings to provide more spacing between employees in an effort to market a safer return to in-person working.
The days of masks, facility shutdowns and conventional social distancing may be on the decline, but the hope is that the appreciation cleaning has garnered in the past year will be permanent — giving managers the necessary tools they need to keep occupants safe. The following findings provide further context on improvements being shown in the industry and what areas managers should keep tabs on.
The survey is broken out into several categories. Links to each are available here:
To compare this 2021 survey with results from previous years, click here.
next page of this article:
Cleaning Executives Dissect Priorities, Outsourcing Threats