Forming Your Fleet
How to Implement Vacuums into Daytime Cleaning Schedules
---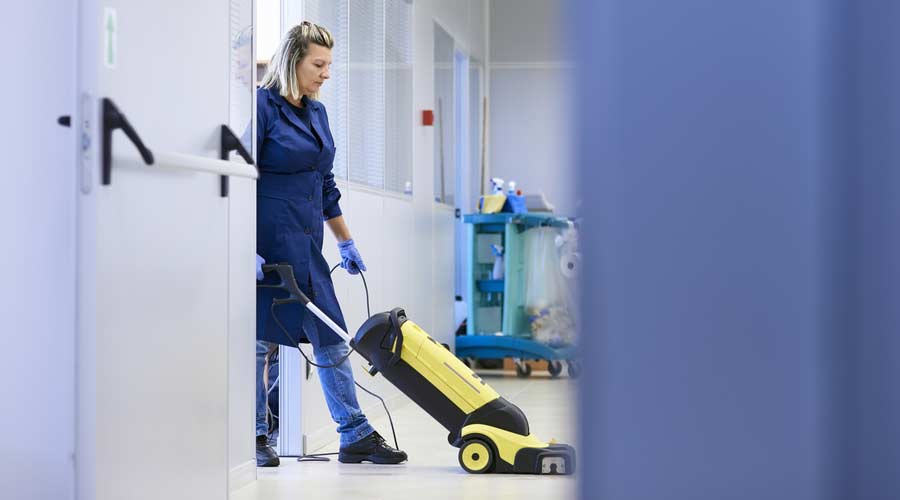 Daytime cleaning programs grew in popularity during the pandemic as facility managers sought to reassure occupants that cleanliness and safety were sufficiently addressed. Consequently, the work associated with this, such as touchpoint disinfection, was visibly and frequently done in order to demonstrate the facility was taking infection prevention seriously.
This work was relatively easy to incorporate into a daytime cleaning program since it was seldom distracting. But more intrusive efforts, such as vacuuming, were another story. This required in-house facility cleaning managers to strategize about how to go about the noisy task without incurring the wrath of those working in the building.
Occupants are going to have legitimate issues around daytime cleaning; worried about potential disruptions, noise, dust, adverse reactions to cleaning chemicals and so on, says Bill Allen, territory manager for Fagan Sanitary Supply, West Elizabeth, Pennsylvania.
"I would chalk it all up to concerns around inconvenience," says Allen. "As such, there has to be an assessment of the benefits of daytime cleaning versus the downsides."
The question is, with people clearly moving on from the pandemic, and with facilities becoming more fully populated, further adding to the challenges associated with daytime cleaning, is there still a need for these programs? Maybe not so much when it comes to the theater of continually wiping down high-touch points and surfaces, but when it comes to vacuuming during the day, the answer is "yes," says Allen.
"For example, 80 percent of the outside soil load comes in at entry points," he explains. "Matting will catch 80 percent of that but will eventually become saturated as the day goes on. If vacuuming can address those entry areas during the day, then this helps minimize the soil load throughout the rest of the facility, making daytime vacuuming worthwhile."
Essential Considerations
If peace among occupants is going to be maintained, there are essential considerations facility managers must take into account regarding their vacuum fleets. The vacuum's noise level is a key one.
Keith Schneringer, senior director of marketing – Facility Care + Sustainability for WAXIE Sanitary Supply, an Envoy Solutions Company, San Diego, says that using low-decibel-level machines that can operate in quite mode is essential.
"Typically, a vacuum cleaner being used for daytime cleaning should operate at less than 70 decibels (dB), at a minimum, so as not to disrupt occupants," he says. "There are several machines which have been rated as low as 51dB when operated in quiet mode, which can be a great fit for a daytime cleaning operation."
Departments focused on daytime cleaning will also want a vacuum with a filtration system engineered to support good air quality. With building occupants sharing space with cleaners, minimizing particulates in the air will reduce asthma triggers and keep workers breathing clean. To achieve this, experts recommend choosing machines that have proven superiority when it comes to trapping, removing and containing dust, dirt and other particles.
For example, selecting those that have high-efficiency particulate absorbing (HEPA) filtration will keep air cleaner and prevent fine-particulate dust from hanging in the air or settling on surfaces. Schneringer suggests looking for vacuums that have received the Carpet & Rug Institute (CRI) Seal of Approval (SOA), which identifies machines that promote improved air quality, cleanliness and extended carpet lifespan.
If tending to carpet during the day, departments should arm their fleet with vacuums that are extremely maneuverable. Frontline workers should be able to easily and quickly get in and out of tight areas like workstations, elevators and stairs. Managers should also consider equipment that eliminates the potential to cause tripping; an advantage offered by cordless vacuums, says Allen.
Mike Sawchuk, owner of Sawchuk Consulting, St. Catharines, Ontario, Canada, sees cordless equipment as being far more efficient in daytime cleaning programs. It provides an enhanced ability for the user to access a variety of spaces with the highest productivity produced by battery backpack vacuums. This is under the assumption that cordless equipment is used properly, and custodians aren't vacuuming back and forth like one would with an upright, for example.
Battery-operated vacuums and wide sweepers — those with reduced noise level, no cords and proper filtration — can be used throughout a facility to good effect and be welcomed by building inhabitants, notes Allen.
"I think when people see vacuums being used, especially cordless, low-noise and no-dust, those utilizing the building during the day appreciate it being cleaned," he explains.
next page of this article:
Carpet Cleaning Tips for Daytime Custodial Operations