Charting Your Course
Challenges Facility Managers Face And How To Handle Them
---
BY Corinne Zudonyi, Editor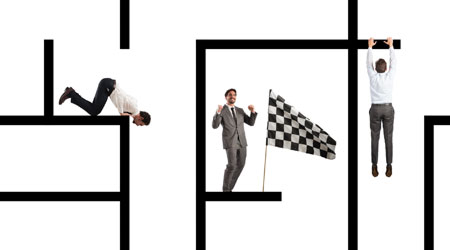 When walking into work each morning, it's difficult to determine what challenges await a manager. Of course, cleaning executives are bound to face a few day-to-day hurdles, but these aren't the problems that keep them up at night. Departmental budgets, staffing demands, industry advancements and succession planning are just some of the issues plaguing managers.

To address these challenges, Facility Cleaning Decisions tapped into our advisory board of industry professionals for feedback.
What are the biggest challenges facing facility cleaning managers today?
Ada Baldwin, M.R.E.H., Director for University Housekeeping, North Carolina State University
One of the biggest challenges facing facility cleaning managers continues to be adequate budgets and maintaining appropriate staffing. From my experience, I've learned that data speaks volumes. Data that calculates the amount of FTEs needed to service cleanable square footage in maintaining the standard cleaning level helps to ensure appropriate staffing levels. The return of investments in labor-saving devices and the productivity that results from the equipment, along with improvements of fewer injuries due to ergonomics assists with purchases of technological-advanced options. The combination of these two educates senior leadership and provides quantifiable information.


Babette Beene, Manager, Environmental Services, Building Care and Operations, Patient Care and Prevention Facilities, University of Texas, MD Anderson
Being equipped to put out the day-to-day fires is an ongoing challenge. Housekeeping can be very stressful at times, but rewarding other times. Managers have to be great multi-taskers that are comfortable wearing different hats. Focus on the end goal: cleanliness, customer satisfaction, and training and appreciating your team.
Doreen Bessert, C.E.H., Worksite Placement Coordinator, Custodial Supervisor and Central Purchasing Agent, Manitowoc County DPWFor me, the biggest challenge is staffing. With the unemployment rate being low, the pool of eligible employees continues to get smaller, which makes hiring a challenge. Second to that are budget restraints. It can be difficult to maintain facilities without having the proper staff, equipment or supplies to get the job done right.



Gene Woodard, R.E.H., Director of Building Services, University of Washington
Funding that is not in alignment with customer expectations, which increases the need for data. Cleaning managers must be able to provide the kind of data that clearly explains productivity rates, quality, costs, etc. — and link that into feedback received from customers. We conduct customer surveys and have a third party company benchmark our data with other like universities. We can clearly show that we need additional staff for specific quality gains or improvements to cleanliness levels.


Michael Jones, Director of Custodial Services, Columbia Public Schools Hiring and retaining employees of the younger generation continues to be our greatest challenge. We have significantly increased our starting wage and restructured supervisor pay to retain our long-term staff. Unfortunately, younger generation employees do not understand what it means to be a benefited employee. Even if they do not have time on the books for vacation, sick or paid personal, they expect to take a day off when they wish. Employees need to be reminded on a continual basis how valuable they are to your organization, and in return, how we compensate them with pay and benefits.


Sandra Harshman, Custodial Superintendent, McCarran International Airport
Staffing. There is no one-size-fits-all way of determining how much space a FTE (full-time employee) can clean in a day. It changes based on facility, square footage, what needs to be serviced within the square footage and the amount of traffic/usage in the area. Most cleaning operations are running two simultaneous cleaning functions; one is a daily routine maintenance clean and the other is a detail or project clean. Not only do you have to maintain the daily appearance of a facility, you also need to ensure that detail work is being scheduled and completed. Staffing challenges can sometimes make this a creative planning process.
Sometimes your business grows faster than your staffing. That is the difficulty that we are facing.
In 2016, our passenger traffic at the airport reached our second highest year ever. We saw more than 47 million passengers (averaging 130,000 per day). This equates to every public restroom in our facility being used every hour of the day (24) by approximately 75 passengers. And this is if they only used it once during their time in the facility.
Just keeping up with paper products and trash is a challenge. To assist our staff in meeting this challenge, we continuously review new technologies and equipment to improve our productivity. The time saved on any one task allowed us to redirect our staffing resources to where they are most needed.


next page of this article:
Changes Managers Can Expect For Their Departments
Disclaimer: Please note that Facebook comments are posted through Facebook and cannot be approved, edited or declined by CleanLink.com. The opinions expressed in Facebook comments do not necessarily reflect those of CleanLink.com or its staff. To find out more about Facebook commenting please read the Conversation Guidelines.