Software Eases Growing Pains
Time Tracking Software Manages Attendance
---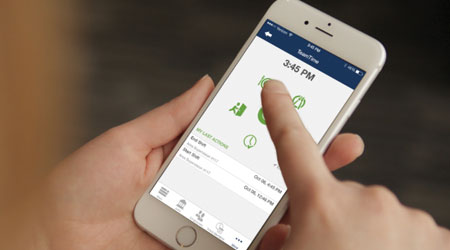 Staffing provides a number of challenges for Janitronics. The company values its staff and strives to attract quality personnel to operate, manage and measure its system. Janitronics encourages professional development through continuing education and certification. However, finding enough staff to cover the work is a big challenge. The majority of the staff members at Janitronics work in the evening and are part-time. As minimum wage continues to rise, Janitronics' low margins are stretched, so it is essential to find and retain committed staff members.

Over the years, Janitronics has used a number of different communication systems to maintain contact with its supervisors and hourly staff members. The company began with pagers then tried two-way radios. Today, it uses TeamTime Portal software, with its TeleTeam and eHub features.

Janitronics uses the timekeeping software to ensure accuracy and streamline processes in this area. The system works via telephone and allows staff members to clock into or out of jobs and to note breaks using a landline or a mobile phone and a personal ID number. It enhances security and operational efficiency with features such as voice messaging, caller ID and voice verification. It can be programmed to recognize Spanish and other foreign languages.

With the software program, Harris and Janitronics staff track where staff members are working and for how long. Harris appreciates that the staff can use the app to clock in or out in real time. At Janitronics, staff members call in from the work site and the computer picks up the number, which it converts to a job and punches staff in. The same system is used to punch out. Staff members can view their future work schedules and job locations.

"Supervisors can't be everywhere," says Harris. "eHub enables staff members to let supervisors know where they are, if they are where they say they are and when they will be at the job, and it's all automated through the system."
This has enabled supervisors to cover more territory and ultimately improve communication with staff members, as the need for texting or calling has all but disappeared.

The supervisors and staff in the field also have access to the timekeeping records. Supervisors can approve timekeeping by viewing the system and can identify whether staff members were actually on site as they claim. It makes managing timekeeping more effective and reduces labor and administrative costs. The information is then automatically uploaded onto WinTeam, TEAM Software's core financial, operations and workforce management solution. This allows for seamless billing and payment processing since Janitronics can track the hours needed to clean each facility.

To some, this may sound "Big Brotherish," and Janitronics is always watching over its staff. And at first, staff members were reluctant to make the changes. However, they've come to appreciate the ease of communication. One example of this is when staff members check out, they have an option to make a comment. If they have run out of product, they can note this, and the product will be there for them the next day. Knowing where staff members are can also help to protect them.

"If there's an event at a location such as a fire, emergency responders can know with certainty if there is someone in the building and act accordingly," says Harris.

Since Janitronics began working with TEAM Software 20-plus years ago, its business has become eight times bigger. However, Janitronics' accounting department has only added two positions. The large janitorial staff is paid on a weekly basis, yet Janitronics only needs one payroll clerk.

"We've been able to hold positions down over time because of automation of system over time," says Harris.

A particular feature staff members appreciate is the "my paychecks" aspect of the app. This allows the staff members to view their electronic paystubs, check how much vacation and sick time they have, enroll for insurance online, and view benefits. The paperless paystubs are another cost savings for Janitronics.
previous page of this article:
Janitorial Software Keeps Rising Costs In Check
next page of this article:
Inspection Software Strengthens Customer Relationships
Disclaimer: Please note that Facebook comments are posted through Facebook and cannot be approved, edited or declined by CleanLink.com. The opinions expressed in Facebook comments do not necessarily reflect those of CleanLink.com or its staff. To find out more about Facebook commenting please read the Conversation Guidelines.