The Man For The Job
Steve Crain Was Destined To Direct 4M Building Solutions
---
BY Jake Meister, Associate Editor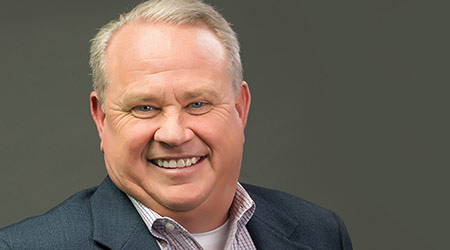 Everyone at 4M Building Solutions knew it was bound to happen. It was just a question of when.
A long-time employee of the company, Steve Crain was named president of the St. Louis-based business back in January. His promotion from chief operating officer to president was, in many ways, symbolic of how the Murch family has run the janitorial service provider ever since patriarch Mitch founded the company in 1978.
At 4M, team members have always worn a lot of hats and everybody is expected to know cleaning, not just the account managers and frontline folk. Crain greatly personifies this "all hands on deck" mentality, having worked various positions across the company since starting in 1987. After beginning as a sales rep in 1987, Crain was asked to run a small business offshoot of the company. In 1994 he "returned" to 4M as its vice president of sales after realizing he missed the craft too much. Eventually he was given the role of COO, which he held for 10 years.
The Murch's have also displayed a habit for somewhat ignoring the class system commonly found in businesses. Sure, titles such as "CEO" exist, but they're not meant to put one person in rarified air. That's because the person doing the cleaning is expected to be given the same amount of respect as an executive.
"We are very hands on with our team members," says Tim Murch, who took over the company for his father some years ago. "We don't have employees or associates, we have team members."
This preference to not put too much importance in labels, though not intentional, pertains to Crain and his current title a bit, too. While he was officially named president in January, Murch and Crain agree he's been acting in the role for much longer — about five years.
next page of this article:
'Battle City Focus' Helps 4M To $100 Million In Sales