The Man For The Job
'Battle City Focus' Helps 4M To $100 Million In Sales
---
BY Jake Meister, Associate Editor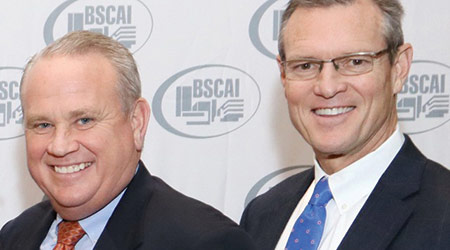 Before officially handing Crain the reigns to the president position, Murch wanted 4M to reach a lofty goal. For years, 4M was in a rut. Despite strong leadership and the good talent and effort from its team members, 4M seemed unable to move past the range of $50 million in sales. That's when Murch, Crain and Executive Division Vice President Dan Cline threw up a number that they were determined to hit: $100 million in sales within seven years.
The "moonshot goal" as Murch calls it, will soon be passed — January 2020 being the most recent conservative estimate. Once the goal is in fact achieved, it will be due in part to efforts of Crain and a strategy he developed.
"Battle city focus" as Crain calls it, is a commitment for 4M to only do business in the cities and towns where it belongs at a particular point in time. In the past, for example, clients have nudged 4M towards going into cities where the company probably shouldn't have gone, says Crain. While the appeal of expansion is attractive, it's best for a company not to take on more than necessary.
"(For example) we've got an infrastructure built to service San Antonio, Texas, so you want to stay there, but not (go to) Dallas, Fort Worth or Houston," says Crain.
While he says the appeal of expansion is attractive (saying no to a nice account outside a battle city can be a challenge), it's best for a company to stick to this method, which has proven effective.
"It's not that we can't create a battle city — we will," says Crain. "But we make sure we're not saturating those battle cities. For me, I struggle with not having a battle city focus."
Once it became more clear that 4M was on a stable track to achieve its $100 million goal, Murch made the call to have his righthand man replace him as president.
"Quite frankly, it was overdue because Steve was doing most of the work of the president already," says Murch.
When it comes to company history, Crain's promotion did buck one significant trend. Prior to Crain being named president, Mitch and Tim were the only individuals to have served in that capacity for the company. However, the decision to hand leadership to someone outside of the family for the first time wasn't totally without some form of precedent. The company prides itself on giving workers the opportunity to advance their careers as far as their work ethic and talents will take them. Crain, having succeeded at every position he held within the company, did just that.
"The culture of 4M provides a career path," says Cline. "His promotion says there is an opportunity at every level of the company."
previous page of this article:
Steve Crain Was Destined To Direct 4M Building Solutions
next page of this article:
A Focus On Company Culture And Employee Empowerment
Disclaimer: Please note that Facebook comments are posted through Facebook and cannot be approved, edited or declined by CleanLink.com. The opinions expressed in Facebook comments do not necessarily reflect those of CleanLink.com or its staff. To find out more about Facebook commenting please read the Conversation Guidelines.