Cleaning Challenges Of Unfamiliar Floors
Luxury Vinyl Flooring Provides Simpler Maintenance, Installation
---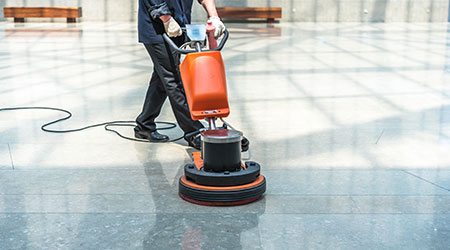 Caring for hard floors can be tricky, especially when dealing with unfamiliar materials. That's why it's important to acquaint cleaning technicians with Luxury Vinyl Tile (LVT) and Luxury Vinyl Plank (LVP), which are quickly becoming popular in commercial spaces.
Facility executives and owners are using LVT and LVP as cost-effective alternatives to vinyl composite tile (VCT), stone or hardwood. While these surfaces require less maintenance than many other options, they represent a change in how techs typically maintain hard floors.
Luxury Vinyl Capabilities
Commercial LVT/LVP is a layered product with a printed film sandwiched between a flexible polyvinyl chloride (PVC) base and a heavy-duty clear vinyl wear layer on top. Some manufacturers also add a urethane or polyurethane coating for additional protection.
The middle layer is a high-definition image of whatever the flooring is meant to replicate. The possibilities are nearly endless. Thanks to advances in 3D printing technology, manufacturers of LVT can recreate the look and texture of any natural or manufactured stone, from ceramic or porcelain to marble and concrete. Likewise, LVP can realistically represent any wood or laminated plank.
LVT/LVP flooring is most popular in healthcare and retail facilities, but is also being more widely used in education, commercial, grocery and hospitality.
"Estimates are that LVP is now over 35 percent of the new flooring going down in these types of buildings," says David Thompson, director of education for the Academy of Cleaning Excellence, Orlando, Florida.
Endless styles and easy installation are two of the three reasons LVT and LVP are surging in popularity, experts say. The third is the promise of low maintenance.
"Constructed primarily of vinyl, the flooring material is very water-resistant, which allows for easy removal of liquids from the surface," says Stan Hulin, president and CEO of Future Floor Technology Inc. and the League of Hard Flooring Professionals, Portland, Oregon. "Ease of maintenance is one of the key selling points of LVT/LVP, however that does not mean no maintenance."
next page of this article:
Entrance Matting Minimizes Floor Soil
---