In The Field: Using Exterior Maintenance as a Unique Selling Point
How Exterior Maintenance Offerings Can Set BSCs Apart
---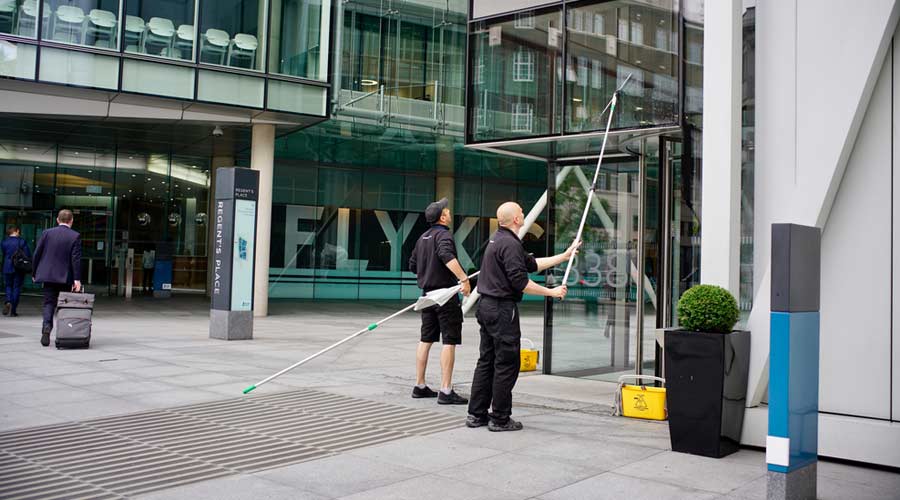 Should building service contractors consider offering exterior maintenance services to their clients? Turns out, those who aren't upselling in this area are already behind the ball.
According to the 2023 Report on the Building Service Contractor Market — a joint study conducted by Contracting Profits magazine and Building Service Contractors Association International (BSCAI) — many building service contractors (BSCs) already provide or are planning to provide special services like exterior window cleaning, graffiti removal, grounds care, pressure washing and more to their existing and potential new clients.
Their reasoning is simple: Contracting companies can charge more for these services.
"The cleaning industry already has razor thin margins," explains Brad Klein, CBSE, president, Building Professionals of Texas Family of Companies, Houston. "This is a great way to add to the bottom line in a positive way and make up for those single-digit margins that accompany nighttime cleaning."
Taking on exterior maintenance jobs comes with risk, however, and some of that risk is literal. This work often involves potentially dangerous tools like power equipment, ladders and lifts. Other risks, like finding enough labor to staff the job, are more figurative but potentially just as damaging to a BSCs reputation. Before building service contractors take the leap into outdoor offerings, there are a few things experts suggest they consider.
The Great Outdoors
Of all the outdoor services BSCs can offer, exterior window cleaning is one of the most popular. The aforementioned 2023 report finds that 62 percent of those surveyed already provide or are planning to provide exterior window cleaning. In fact, three years ago Klein added a separate vertical to his company just to handle this popular service. He is quick to stress, though, that they only offer this service for low-rise buildings like schools, churches and fenestration-heavy car dealerships.
"Only up to three stories," he says.
Other common offerings, according to the report, include graffiti removal (30 percent), grounds care (22 percent), exterior pressure washing (52 percent), and to a lesser extent snow and ice removal (10 percent). For some BSCs, this exterior work represents a large portion of their business.
"About 40 percent of our revenue is from our PorterPlus+ division, which caters to apartment and condo communities," says Greg Buchner, president and CEO of CleanOffice/PorterPlus+, Chantilly, Virginia. "This includes basic services like picking up loose debris and litter, and attending to exterior trash receptacles. It also includes high-impact offerings like pressure washing sidewalks, patio areas, pool decks and outdoor furniture. We also handle a fair amount of graffiti removal and bulk waste removal."
Exterior work is critical for many BSCs, regardless of how much it contributes to the bottom line.
"Window cleaning and pressure washing makes up about 15 to 20 percent of what we do," says Carlos Martinez, CEO, Dura-Shine Clean, Pasco, Washington. "We are really busy with those projects from early spring to late fall."
Despite the successes many BSCs have experienced by diversifying into the exterior space, not every BSC is jumping on board.
"Most of my experiences with external work are of the 'one-and-done' variety," says Dale Stoffels, owner of Stoffels Maintenance Service, Inc, Verona, Wisconsin. "I only have one customer that, once in a great while, will ask me to do some painting, caulking or similar. I do mow their very small amount of lawn once a week during the summer (it only takes 30 minutes), but that's it. Sometimes I have customers who want their parking lots or underground lots swept, so I will rent a power sweeper for them. It's a rare enough thing that I wouldn't even consider buying and storing the sweeper."
next page of this article:
Tips for Staffing, Marketing Exterior Marketing Services