Building A Team
Creating A Team Of Strong Leaders
---
BY Jake Meister, Associate Editor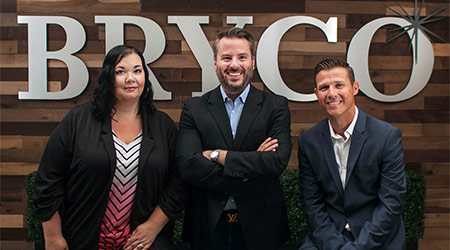 Deciding expansion was the thing to do, Lazorik took the mayor's advice and started planning a team of leaders with which he could surround himself. The first person who came to mind was Bush.
In an ideal world, Lazorik could have called Bush up and asked him to start running his sales team the next day. However, such a situation wasn't practical because the company still didn't have the resources to offer Bush and his young family what they needed: a salary commensurate with his experiences and skill set, and the type of stability a restaurant chain could offer. So Lazorik personally loaned the company money to pay Bush a competitive salary.
"I'm risking the money and he's risking whether it is going to work out," says Lazorik.
Bush took the job in May 2015, but only after he and Lazorik came to an agreement.
"It was important that we agreed on a timeline to gauge whether or not this would work out," says Bush.
The two agreed that if Bryco Facility Services wasn't where they wanted it to be after two years, then both men would go their separate ways, with their friendship still intact.
Bush says it wasn't the sales position per se that enticed him to leave his stable job for Lazorik's revamped Bryco Facility Services. It was more the opportunity the venture gave him to be an integral part of something special. He wasn't going to be just a number like he had been in his corporate jobs before.
Commercial cleaning is a different business than most. The people doing the work are the backbone of the operation, yet are usually relegated to the shadows working in the evening hours — oftentimes alone. But it's really important that leadership and other office staff know exactly what that job entails. That's why Lazorik favors exposing important hires to frontline cleaning.
When Bush was hired for a second time, he took the job knowing that, although he's a salesperson first, he would also have to step up every so often to take on tasks such as an overnight floor finishing project.
"I don't think I could hire a salesperson without them agreeing to work a week with our cleaning teams," says Lazorik.
With Bush on board and the foundation of the Bryco Facility Services' sales team set, Lazorik was ready to focus on other areas of the business. He felt all these plans that were put in place would be for not if he wasn't able to build a quality operations team. Luckily, he would soon have just the person for the job.
Holly Klien started at Bryco Facility Services in December of 2015 as an administrative assistant, but demonstrated expertise and drive well beyond that role. Lazorik knew Klien would thrive if given the opportunity. About a year and a half after being hired, she was overseeing quality control and human resources, before eventually being promoted to director of operations in 2018; a position Lazorik's mother held when Klien first started.
"Holly is essential to our success and our continued growth. She is amazing at developing relationships with our area supervisors, team leaders and frontline cleaners. She's responsive and proactive with both employees and clients," says Lazorik. "As a person, one of Holly's best qualities is that she's a perpetual optimist and she radiates positivity. Even when we are having a rough day, I can count on Holly to find the silver lining to smile about."
The implementation of Klien and Bush into their important roles has played a massive part in Bryco Facility Services' precipitous growth over the last few years. Lazorik's hiring of them, in conjunction with many others along the way, has taught him a lot about team building over the past 20 years.
He says the cleaning industry is one where when an employee is needed, he or she is needed yesterday, not tomorrow. But that doesn't mean a cleaning company should ever settle in its hiring process, just to fill a hole. All the times Lazorik has been burnt by a bad hire were instances in which he rushed and didn't give the process the time it needed to unveil a candidate who was a good cultural fit for his company.
"If you put some time and effort into identifying who is a good fit for your company, there's a greater chance of that person working out, but also a greater chance of them advancing," he says. "We really can't settle in hiring any of our team members. I want every new hire to be a good fit, so they have an opportunity to advance and grow with us."
Advice on building a business isn't really one size fits all. As Lazorik explains, some owners might be different from him in that they're just fine with 15 or so employees and a steady client base. But Lazorik wanted to do more than just get by — he wanted to provide an environment where his staff was happy. His advice for other BSCs looking to do the same is to first figure out what it is he or she is looking to accomplish. It's at that point the owner must draw up a plan to go and achieve their goal, whatever that might be.
"Four years ago, I asked myself, 'What is our company culture?' You can't just go in with a c-suite team and determine what your culture is or make one up," says Lazorik. "Your executive management team has one point of view, and I can guarantee it's different from the frontline cleaners."
That's when Bryco Facility Services came up with a plan where it would find out what the company's culture was by asking the employees to write down what they liked about Bryco on a note card.
"That's really what your company is — it's what your employees tell you it is," says Lazorik. "A lot of employees said Bryco feels like a family, so that's one of the values of our company's culture. A lot of employees like how they're held accountable and know whether they're doing well or not. We don't want to leave anyone in limbo wondering, 'Am I doing a good job?' That's a value."
previous page of this article:
Building Bryco Facility Services
next page of this article:
Bryco Tackles Challenges As A Team
---